The Ogoni Rights Advocates (ORA) is peeved that the Federal Government is contemplating building a massive prison and cemetery in Ogoniland, instead of the prompt clean-up and massive development the area demands.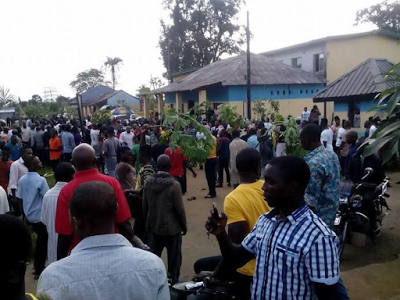 The group, which is based in the US, in a statement signed by its co-ordinator, Michael Akoka, said it found the proposed plan "incredibly irresponsible and insensitive to the systematic oppression", which Ogonis have faced and endured over the years.
The statement claims that the project, reportedly being planned by the Federal Ministry of Interior, will include the confiscation of an area of land spanning over 41 hectares in Bori, headquarters of Khana Local Government Area of Rivers State.
But wondering what the plan was for, the group, which said it was already mobilising international and domestic pressure to resist the plan, appealed to the Rivers State Governor, Nyesom Wike, to intervene quickly to cause government to shelve the project.
The statement reads: "For many years, our stand as Ogoni people has never shifted. We want a total clean-up of our land. We want to take our destiny in our hand and use the resources God put in our land and the ingenuity of our people to develop our area. Our leaders have struggled and many have died as a result. We are prepared to continue with this struggle, as long as the government of Nigeria continues to mock our aspirations and desires to develop our land and to bring it out of unthinkable poverty, disease and want in the midst of potential and mind-boggling wealth and prosperity the resources in our land can provide.
"We cannot think of anything or fathom the reason for this plan of the federal government than the continued subjugation of the Ogoni people and make them watch from the glass ceiling while the spoils of their land are shared and used to develop other areas, while their people live and die in penury.
"If that is the case, and the plan is to build a prison and cemetery, big enough to clamp down or bury those who will resist the commencement of the exploitation of our resources without first cleaning up the land and providing the template for the massive development of our land, then the Federal Government and its agencies must be prepared for our resistance.
"For the avoidance of doubt, the United Nations took stock of the tortured Ogoni environment, declared it unsafe due to oil drilling activities, and mandated Shell and the Federal Government of Nigeria to clean it up. It is the belief of all Ogonis, home and abroad, that the United Nations Environmental Programme (UNEP) Report must be implemented. We need a clean environment, good schools and world class hospitals. These are the constitutional responsibilities, among others, of the government to the survival of the Ogoni people.
"We call on all well-meaning Nigerians to stand with us as we encounter a modern face of the Ogoni trials and tribulations."