On Friday, October 8, 2021, Benin City in Edo State, Nigeria, played host to the first Niger Delta Climate Change Exhibition – an art exhibition that utilises visual content (pictures, paintings, and video) to bring to the forefront of the public challenges communities and individuals face as a result of climate change.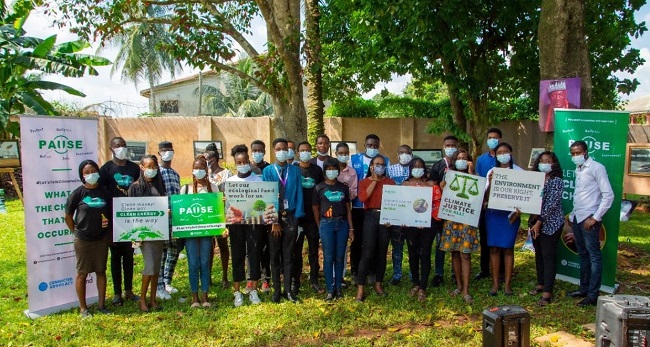 Organised by Connected Advocacy for Empowerment and Youth Development, the project was aimed at showcasing findings gathered from local communities in Bayelsa, Delta, Edo, and Rivers states.
In his opening remark, the Executive Director of Connected Advocacy, Prince Israel Orekha, gave an overview of what the exhibition represents and what his team intended to achieve.
He said: "The artworks here represent the situation and community reports we got from across the Niger Delta on how climate change affects us. These artworks were done by us and we are using them to tell the story of climate change. We want these stories to be readily available in the hands of the youth, policymakers and the public – we believe this will help us all see the need to take urgent steps against climate change."
He rounded off by calling on the participants to action: "Climate change is here – we want citizens and policymakers to begin to take mitigative actions to tackle climate change. One man or group can not do it alone; together we can make a difference."
The event featured three speakers: Babawale Obayanju, climate justice campaigner and photographer; Isaac Botti, Programme Manager, Social Action Nigeria; and Gloria Kasang Bulus, environmentalist and founder, Bridge That Gap Initiative.
Obayanju spoke on the concept of visualACTIVISM, the art of using what the eyes can see to pass across messages that are of social concern like climate change. He talked about how powerful visuals can be in advocating for people to take action. "A picture is worth a thousand words – a complex idea can be conveyed with just a single still image/a short film, making it possible to absorb large amounts of information quickly.
In communicating climate messages, Babawale indulged the participants to understand that they are dealing with people and to communicate their messages to people they have to think like a person; putting human issues at the fore – being empathetic and humanising the narrative. He made it known that it is also important to understand that images (artworks) aren't the struggle or the solution but they are part of it.
He said: "Art/photographs didn't end slavery, apartheid, or mercury poisoning. It didn't get women the vote and they didn't end the Vietnam War – it only played a part in all these things and helped crystallise political change further down the line."
There is a need to make our messages strong enough so that others who see these messages will empathize with us and take action. Therefore, there is a need to capture moments, look for something different from what everyone else is doing about the issues that seem more emotionally attached to what is going on."
While addressing the topic "How Strong Institutions Can Enhance Mitigative Action for Climate Change", Isaac Botti pointed out that to successfully address climate change issues, mitigation is very important; a key thing that can drive the process of mitigative action for the impact of climate change are vibrant institutions.
"When policies are developed and frameworks are established in managing certain social situations like climate change, there is a need to support this effort with concrete and effective institutions to drive the process," he said.
Speaking on "Community Organising for Mitigation Climate Actions", Gloria Bulus defined a community as a group of people not only living in the same place but also having a shared interest even if they are in different geographic locations. She spoke about community organising, a vital tool to engage and empower people with the purpose of increasing the influence of groups historically underrepresented in policies and decision making that affect their lives.
"To have a successful community organising, there has to be unity – we have to work together in our various communities. There is a skill gap in our communities; we need to strengthen community power by building relationships, building our capacity, develop leadership skills and collectively carry out community action in the fight against climate change. The community must take ownership of whatever you are doing in a community," she stated.
In his goodwill remark, Nnimmo Bassey, environmental activist and founder of Health of Mother Earth Foundation (HOMEF), welcomed the participants and encouraged them to learn, to question and to take actions that will help mitigate the impact of global warming.
"Engage in the political analysis of climate change – understanding the things that brought us to this problem and how to overturn it," he said. "This meeting is about your life, it is about your future, it is an intergenerational exercise. Fighting global warming is about the future and the future is today. I want to call on you to dream of the future you want for yourself and your children and begin to build the pathway towards that future."
He commended Connected Advocacy for their works in the climate space as one group with the passion, vision and belief in the right ideals to push forward for a better environment and society.