The Civil Liberties Organisation (CLO) on Monday, July 10, 2023, urged the Federal Government to expedite intervention on the erosion ravaging parts of Onitsha-Ihiala-Mgbidi-Owerri Road.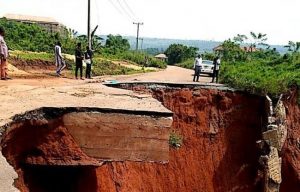 "Due to torrential downpours, the situation in portions of the road, threatened by erosion, has degenerated and deserved urgent and immediate measures by the Federal Government," the Chairman of CLO, Anambra, Mr Vincent Ezekwueme, said.
Ezekwueme said in Enugu that the erosion threatening the road at the Oba community axis had eaten deep on one of the lanes of the dual carriage road.
"It is only time will tell in the next two months or so, with the current torrential rains; the remaining part of the road at that axis will collapse and it will become impassable for millions of Nigerians," he said.
"We call on President Ahmed Tinubu to direct the Permanent Secretary of the Ministry of Works and Managing Director, Federal Roads Maintenance Agency (FERMA), to pay on-the-spot fact-finding and assessment visits to the site in order to see things for themselves.
"They should also proffer immediate and permanent solutions to the pitiable condition of the road.
"It is no exaggeration but an existential reality that commuters, motorists, visitors and citizens have been subjected to unprecedented agony, excruciating pains, sufferings, and predicament due to the despicable general state of the road," he said.
The CLO boss noted that there was no doubt that urgent rehabilitation of the road would help ameliorate the sufferings of citizens, bearing in mind that the road connects six states of the federation.
He commended Sen. Victor Umeh, representing Anambra Central Senatorial Zone, for visiting the erosion threatened portions of the road promptly.
"We appreciate Sen. Umeh who promised to draw the attention of the Senate to the danger posed by erosion menace ravaging the road and the area in general and the inevitable need for emergency intervention," he added.
By Stanley Nwanosike