The International Centre for Environmental Health and Development (ICEHD), a non-governmental Organsition (NGO), on Thursday, May 11, 2023, trained Badagry stakeholders in the efficacy of environmental cleanliness.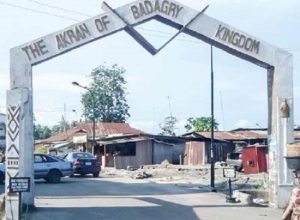 The Project Manager of ICEHD, Miss Mercy Joshua, said the training was the major media campaign programme under the Badagry Women Farmers Empowerment Project.
Joshua said the training was embarked upon to create linkages and bridge the gap between women and the local authorities, extract government commitment to provide resources for women farmers and reforms in environment, agriculture and climate challenges affecting them.
According to her, many women in Nigeria are economically excluded, exploited and marginalised due to varied socioeconomic factors and cultural barriers.
"For women farmers, particularly those in rural communities, this situation is worsened by the adverse impact of climate change.
"Nigeria's climate is increasingly changing, evidenced in upsurges in temperature, variable rainfall, flooding, and land degradation, with these changes bringing a gendered impact, as it disproportionately affects women and widens gender inequalities," she said.
She said that small scale women farmers were facing a lot of challenges due to climate change.
"The project is focused on empowering Badagry women farmers with knowledge, skills, resources and tools to enable them access economic opportunities, be equipped with sustainable solutions to address climate challenges.
"This will enable them achieve economic justice and the capacity to project their voices against exploitation and marginalisation," Joshua said.
She said the NGO was working with the Department of Environmental Health Services in Badagry Local Government, all Badagry market leaders, religious leaders and political leaders, to bridge the gap between Badagry women and the local authorities.
Also speaking, Mrs Ajilola Jegede, the Head of Department, Environment, Badagry Local Government Area, urged the market leaders and stakeholders to always keep their clean environment.
"It is what you give to the environment that it will return back to you," Jegede said.
Mrs Sure Rasheed, the Iyaloja of Ikoga-Zebbe community, urged the government to provide the market with waste disposal nylon to avoid littering of waste in the market.
The NGO took the campaign to Ikoga-Zebbe market where clean-up was organised for market men and women.
By Raji Rasak