HarvestPlus, a non-governmental organisation (NGO), has partnered the Nigeria Export Promotion Council (NEPC) to improve the production of biologically fortified crops.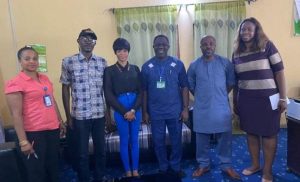 Mr Goodluck Ogu, the NGO's Commercialisation of Bio-fortified Crops (CBC) Manager in Nigeria, made the disclosure in Owerri on Thursday, March 10, 2022, when a delegation from the organisation visited NEPC's office in Imo State.
Ogu said that the main objective of the visit was to intimate the Trade Promotion Advisor (TPA) on plans to establish an office for the NGO in Imo, with the aim of advancing the livelihood of residents of the state through the production of bio-fortified crops.
He thanked NEPC's Executive Director, Mr Ezra Yakusak, for the visible efforts of the Council in product development for export in Nigeria and solicited the Council's partnership in driving their project, especially its forthcoming Seed Fair planned to hold in Imo.
"We are grateful to the management of the NEPC for its commitment to creating an enabling environment for exportation to thrive in Nigeria.
"We will partner the Council to ensure the production of bio-fortified crops that will meet internationally acceptable health and export standards," he said.
Speaking, NEPC's TPA in Imo, Mr Anthony Ajuruchi, thanked the NGO for the visit and pledged the council's readiness to collaborate with the organisation on the Seed Fair.
He offered to enlighten the public talk during the Seed Fair as part of his commitment to the project saying enlightenment was important to prepare the participants to think export as they embarked on the production of bio-fortified crops.
"NEPC will always be committed to any initiative that will improve the quality of our exportable products.
"We hope that building capacity in bio- fortification of crops with vitamins will ensure the production of high quality agro produce for healthy living and exports," he said.
By Victor Nwachukwu