Following evolving evidence on the transmission of coronavirus (COVID-19), numbers crossed grim thresholds in June 2020, with cases passing 10 million globally and deaths topping 500,000.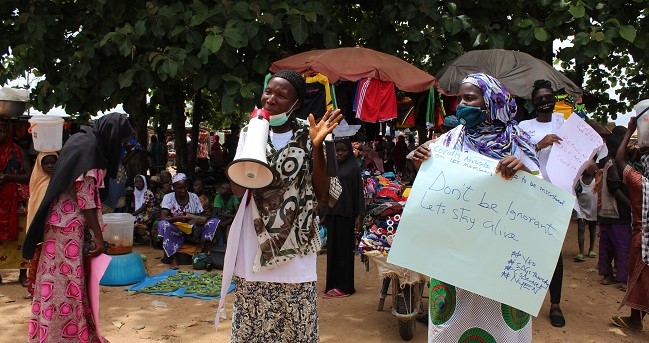 The World Health Organisation (WHO) provided recommendations for the wearing of face masks, where there is ongoing widespread transmission and physical distancing is difficult such as in public transport, markets, and confined or crowded environments.
In Nigeria, the Presidential Task Force on COVID-19 mandated the use of face masks or coverings in public spaces on April 27. With challenges in carrying out tests, one area that has been neglected seems to be the rural community. With a high level of urban to rural migration, the assumption is that chances of increased spread of the virus are high.
Voluntary Service Overseas (VSO) through its National Youth Engagement Network (NYEN), in collaboration with Climate and Sustainable Development Network (CSDevNet) and SDGs Thursday embarked on a month-long Covid-19 awareness and sensitisation programmes from June to July 2020 aimed at reducing communal spread of COVID-19 and flatten the curve.
According to Mr. Lucky Abeng, Deputy Coordinator for SDGs Thursday and one of the Team Lead at NYEN Abuja, the project has a component of Street-to-street campaign using Covid-19 ambassadors who are relevant stakeholders in the host communities. The project, currently been implemented in Abuja, as well as Kano and Adamawa states covers over 18 vulnerable communities.
Lucky added that one of the COVID-19 traders, street-to-street and community advocacy and sensitisation campaign in Paido market and communities, Gwagwalada Area Council in FCT-Abuja was led by women and youths drawn from a coalition of VSO NYEN volunteers led by SDGs Thursday, CSDevNet and VSO RVs with support from a community-based organisation called the Paido Community Development Initiative (PCDI )and Society Sociales SOS engaged both buyers and sellers.
Mr. Pius Oko, Project Officer for CSDevNet and a Team Lead for the project, stressed that COVID-19 has hit Nigeria hard. The last official tally reported around 25,000 COVID-19 cases in June and over 550 deaths with cases rising. Low education levels, limited access to information, water and sanitation and weak health system make it difficult for the country to control the rapid spread of the virus.
Therefore, according to Oko, this COVID-19 engagement innovative programmes and activities in vulnerable communities has put youth and volunteers at the forefront of running public awareness campaigns in rural areas. Educating families and household on promoting health recommendations such as take responsibility, wear your face mask (correct use of face masks), observe social distancing and wash your hand regularly under running water for at least 20 seconds as ways to protect against, combat and reduce risk of the deadly COVID-19 infection.
Mrs. Pamela Ukaku, also a NYEN Volunteer, stated that following the awareness and campaign, nearly over 1,500 masks produced by community youths have been distribution to families and vulnerable household who cannot afford to buy protective equipment to help prevent COVID-19 community outbreaks.
The Campaign slogan used by the volunteers include: "Take Caution", "COVID19 is Real, Be Safe From Corona virus infection", "#AloneTogether", "Prevent COVID19", "Regular Hand washing", "Save your Neighbor", "Regular wearing of Facemask", "COVID19 is Real", "Keep 2 meters Apart for COVID19 Safety", "Hand sanitisers help reduce the spread of covid-19", "Help your community flatten the Covid-19 curve", and "Don't be ignorant, let's stay alive".
In addition, Mrs Larai Ramatu Abdulkadir, NYEN Volunteer, concluded that the campaign was designed to address the identified widespread ignorance among a large segment of the people in the selected states on the spread of coronavirus as well as educate them on preventive measures to be adopted in controlling the disease, especially in rural communities.
The awareness also included live radio and television sessions in Abuja and Kano respectively with audience contributions and advise on Perceptions, Attitudes and Public Behaviours that must be tackled to discontinue community transmission of COVID-19 in Nigeria.