Lagos-based environment watchdog, the Sustainable Research and Action for Environmental Development (SRADev), has called on the state government to immediately stop and review an ongoing project that is enabling the reclamation of a wetland by sand filling at the Opebi-Ojota Link Road.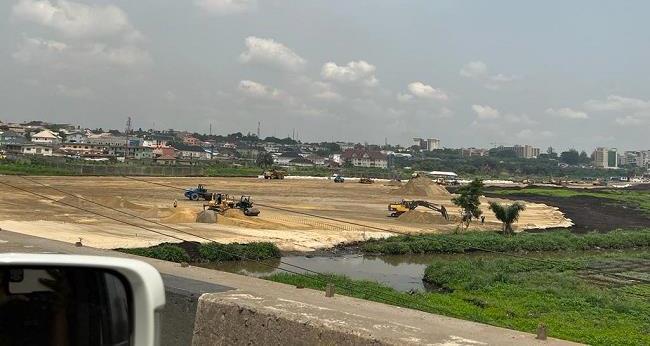 In a letter, "Protest Letter on Construction Ojota-Opebi Link Bridges and Approach Roads", submitted to the Lagos State Ministry of Environment and Water Resources and Lagos State Environmental Protection Agency (LASEPA), the SRADev executive director, Dr. Leslie Adogame, lamented "the very unprofessional nature" the Legacy Project that involves the construction of the Ojota-Opebi link bridges and approach road is being carried out since its flag-off on January 26, 2022.
The project is being undertaken by Messrs Julius Berger Nigeria Plc under the auspices of the Lagos State Ministry of Works and Infrastructure in collaboration with Lagos State Ministry of Transportation.
"The approach of the implementation of this project obviously runs counter to Lagos State's stand on wetland preservation. Albeit, the Lagos State Government has reiterated its commitment to stop all forms of encroachments and misuse of wetlands in the State for better preservation of biodiversity," Dr Adogame wrote in the letter dated Friday, April 22, 2022.
He added that Nigeria on February 2, 2009, ratified the Convention on Wetlands preservation (RAMSAR Convention) "which the state government has consistently rhetorically adhered to in protecting the wetlands".
According to him, wetlands are flooded and marshy swamps and regions that help in the formation of different varieties of life forms.
"Wetlands can be naturally formed and also be artificial and, to enhance ecological health and biodiversity, both natural and artificial wetlands play a very significant role," he stated, adding that the advantages of wetlands as a natural drainage, its importance to livelihood of farmers and fishermen, food security, biodiversity and tourism cannot be over-emphasised.
His words: "Against this background, on behalf of key stakeholders (environment professionals/advocates, NGOs, wetlands protection dwellers/communities), we strongly condemn the sand-filling practice and encroachment activity currently on-going at the project site."
He listed reasons for the condemnation to include:
Information available so far, indicates no Environmental Impact Assessment (EIA) was carried out before commencement of the project. Even if an EIA was done; the project still falls against the tenets of wetland reclamation.
Investigation shows that key regulatory institutions like the Lagos Ministry of Environment and its agency; LASEPA were not consulted or not notified of the project, and hence unable to play its advisory role.
The construction works/project based on wetland encroachment design does not align with the Lagos Urban Development Initiative.
The current practice is against nature and even the contractor's (Messrs Julius Berger) own Environmental, Health and Safety, Community affairs policies.
The group thus called on the state government to immediately put a stop to the activity and review the contract with a view to "protecting the Lagos flood plain encroachment and its wetland abuse".