A non-governmental organisation (NGO), Panacea for Developmental and Infrastructural Challenges for Africa Initiative (PADIC-AFRICA), has decried the indiscriminate approval given to mining companies operating in Cross River State, despite the threat to livelihood of the locals and the environment.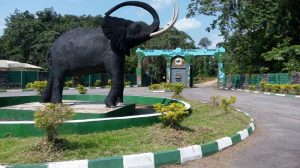 Executive Director of PADIC-Africa, Dr. Martins Egot, who disclosed the organisation's position in an interview in Calabar, the Cross River State capital, added that it is disheartening to know that the Federal Ministry of Mines and Steel Development is giving out leasing rights to mining companies in the Cross River National Park.
He said if the trend is not reversed, it will rob the state of so many incentives including ecological benefits, international recognitions as well as funding.
"As we speak, there are several areas that mining is happening in Cross River State except the National Park. Mining activities is coming into Cross River State massively and now, they have entered the National Park which is a big worry. If we do not take things more seriously in the National Park, there will be a disaster.
"Government institutions are not helping matters, so that is the major worry that is why we are making noise, we want the people to know the dept of the activities so we can stop now before it's too late.
"You cannot monetarily quantify what you have in the forest, apart from the ecosystem services which is life itself. But if you do real tourism projects in the National Park, there is no way Cross River State would not be making millions monthly from eco-tourism. There are lodges and people come in there from different areas and we make foreign exchange from that.
"The National Park therefore has the mandate to manage and protect the National Park and the Federal Ministry of Mines and Steel Development should not in anyway, give out leasing rights to any mining company in the National Park and they know this. We are trying to get to the appropriate authorities to ensure that this is reversed as soon as possible. As we speak, it is still happening in Ofumkpa in Biase local government area of the state.
"The status of Cross River State nationally and internationally, as custodians of the highest and remaining rainforest in Nigeria, is there. There ought to be ecological benefits, international recognitions and even funding to gain from this," Egot lamented.
He, however, said the organisation was not against the government's quest to raise revenue from natural resources that abound in the country, but insisted that due process must be followed.
"Even as environmentalists, we are not completely in anyway opposed to government making money from resources that they have but we are saying that things should be done rightly.
"We have always told people, timber dealers and community people to do the right thing by ensuring that they know the numbers of trees that they are extracting from the forests and ensure that they are of marketable size approved and following best practices as they would still make money from that.
"The National Park is a reserve that can give us funds from eco-tourism and we would still have our forests intact at that level," he added.
By Stina Ezin, Calabar