The Civil Liberties Organisation (CLO) on Thursday, May 13, 2021 expressed concern about  gully erosion in Aguata LGA of Anambra State, which it blamed on alleged  abandonment of  Ugwuakwu-Ibughubu-Umuchu Road.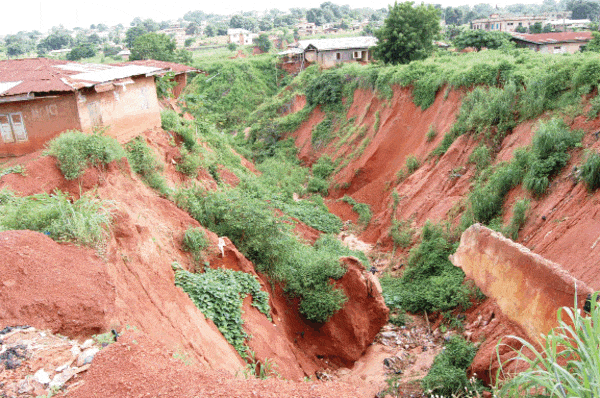 Chairman of CLO in the state, Mr Vincent Ezekwueme, expressed the concern in an interview in Enugu.
He said that residents of the council area wete  facing hardship going out and coming in.
Ezekwueme said that recent downpours caused flooding that worsened the situation, warning that the erosion could cut communities and villages off.
He urged that measures should be taken without delay to tackle the menace and stop its effects on houses, farms and other property.
"We appeal to his excellency, Gov. Willie Obiano, to direct the contractor handling the project to go back to site and commence work on the road to save lives and property,'' he said.
The chairman said that the alleged abandonment of Ugwuakwu-Ibughubu-Umuchu Road was causing huge socio-economic losses on residents of Aguata council area.
He said, "It very unfortunate that the erosion situation is worsening due to rainy season.
"Gov. Obiano should also, out of his love for the citizenry, order the commissioners for works and environment to visit the affected area to understand the plights of the people.
"The flooding, erosion and dilapidated condition of the uncompleted Ugwuakwu-Ibughubu-Umuchu Road have made it impossible to access villages and towns in Aguata council area.''
By Stanley Nwanosike