The Socio-Economic Rights and Accountability Project (SERAP) has urged President Muhammadu Buhari to urgently "seek from the International Criminal Court an arrest warrant to bring Mrs Diezani Alison-Madueke before the court on allegations of corruption against her, which the government should consider as crimes against humanity and serious enough for it to sanction her prosecution before the court."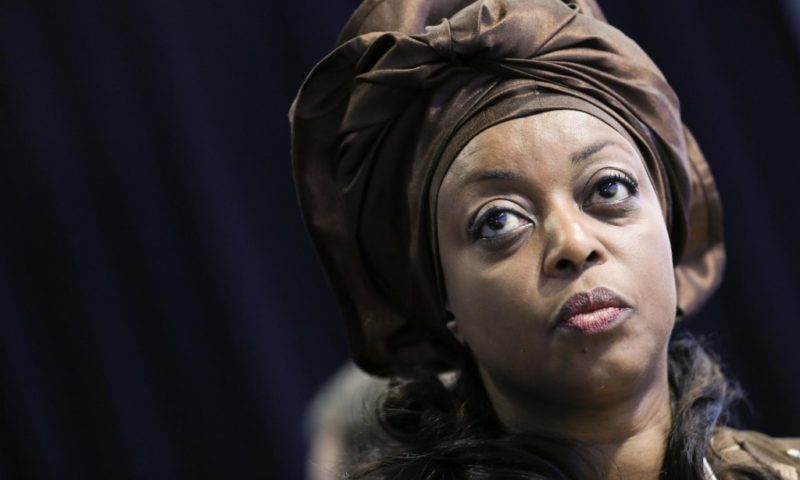 The organisation also urged the government to "pursue civil actions to ensure that all the funds allegedly stolen by her are fully recovered and duly accounted for."
In a statement issued on Sunday, September 3, 2017 and made available to EnviroNews, the SERAP deputy director, Timothy Adewale, said: "The allegations of corruption against Mrs Diezani Alison-Madueke suggest the manifest failure of the government of former president Goodluck Jonathan to protect Nigerians from such heinous crimes. Your government now has the responsibility to take bold action to sufficiently redress this injustice committed against Nigerians, and the significant long-term damage for the country."
The organisation added: "By pursuing international warrant of arrest for Mrs Diezani Alison-Madueke in order for her to be brought before the ICC, your government would be showing to Nigerians that it is indeed determined to match its stated commitment to combat grand corruption and its debilitating effects with concrete and bold action."
SERAP's request followed growing allegations of corruption against Mrs Alison-Madueke and the recent disclosure by the Chairman, Presidential Advisory Committee Against Corruption, Prof. Itse Sagay, that the Economic and Financial Crimes Commission (EFCC) had recovered about half a trillion naira from her. Several court orders have also seized millions of dollars from bank accounts and forfeiture of several houses both in Nigeria and abroad linked to her.
The statement reads in part: "SERAP believes that, as important as it is, the recovery of alleged stolen public funds from Mrs Diezani Alison-Madueke is far from adequate to redress the crimes against humanity that have been committed against Nigerians. The allegations of corruption clearly suggest the exploitation of Nigeria's natural resources to the detriment of its people, and are serious enough to meet the requirements of crimes against humanity, thus bringing her within the jurisdiction of the ICC.
"Pursuing this case before the ICC would also help to deter grand corruption and its devastating effects on Nigeria and contribute to the development of case-law in the field of corruption and citizens' socio-economic rights, and ultimately advance the right of Nigerians to restitution, compensation and guarantee of non-repetition. Such bold initiative would also improve public confidence in the fight against corruption.
"We also urge your government should urgently propose legislation that would characterise the kind of corruption allegedly committed by Mrs Diezani Alison-Madueke as crime against humanity within our national laws, and thus allow Nigerian courts to directly hear those cases.
"In this case, the inhumane acts committed against Nigerians take the form of grand corruption, and taking away our commonwealth for her personal benefit, the corrupt acts apparently took place over an extended and critical period during the government of former president Goodluck Jonathan. Mrs Diezani Alison-Madueke knew or ought to have known that such level of alleged corruption by her would cause or contribute to or aggravate the suffering of marginalised and vulnerable Nigerians, denying them access to the basic necessities of life.
"The fact that such enormous crimes could went on for such a long time without any form of redress is an affront to universal human rights of Nigerians to their natural wealth and resources. SERAP believes that causing unspeakable hardships or aggravating the suffering of large numbers of Nigerians ought to constitute an inhumane act of a nature amounting to a crime against humanity, for which the most appropriate forum of redress is the ICC.
"The allegations of corruption against Mrs Diezani Alison-Madueke deeply shock the conscience of humanity. Stealing of public funds meant to ensure basic necessities such as water, shelter and medicines for Nigerians rises to the level of crimes against humanity, as this has compelled the citizens to live in inhumane or degrading conditions, in violation of customary international law and treaty obligations particularly the Rome Statute of the International Criminal Court to which Nigeria is a state party.
"Article 7(2) (b) of the Rome Statute of the International Criminal Court among others includes the intentional deprivation of access to food and medicine as crime against humanity. Under Article 30(2) (b), a person has intent in relation to a consequence, for example, where that person means to cause that consequence or is aware that it will occur in the ordinary course of events.
"Allegedly stealing such huge public funds from a developing country like Nigeria has not only drained Nigerians of their valuable commonwealth but also contributed to poverty, irregular electricity supply, bad roads, poor and inadequate health facilities, underdevelopment, conflicts, and insecurity.
"Primarily because of grand corruption under successive governments since the return of democracy in 1999, millions of Nigerians continue to live in extreme poverty, a condition manifested by the lack of clean water, malnutrition, high rates of child mortality and morbidity, low life expectancy, illiteracy, perception of hopelessness and social exclusion.
"Such basic necessities are those resources needed for individuals to maintain their physical and mental integrity. The resources may be material resources, services or access opportunities. SERAP believes that depriving individuals of basic necessities may cause physical or mental sufferings, material losses, physical or mental injury, or death.
"SERAP also notes the final report on the Question of Impunity of Perpetrators of Human Rights Violations by UN Special Rapporteur El Hadji Guiss which concluded that violations of economic, social and cultural rights could be declared international crimes that are consequently subject to the principles of universal jurisdiction and imprescriptibility.
"Similarly, Common Article 1 to the International Covenant on Civil and Political Rights and the International Covenant on Economic, Social and Cultural Rights stipulates an imperative prohibition against depriving a people of its own means of subsistence.
"The essence of crimes against humanity is a systematic policy or action of a certain scale and gravity directed against a civilian population. The expression 'attack directed against any civilian population' is defined as meaning 'a course of conduct involving the multiple commission of acts against any civilian population, pursuant to or in furtherance of a State or organisational policy to commit such attack.
"The term 'attack' is not limited to violent acts. SERAP believes it extends to grand corruption committed with the intent or knowledge that such enormous crime will subject a civilian population to inhumane conditions of existence or perpetuate such conditions.
"The ICC pre-trial chamber issues a warrant if it determines that the summary of evidence that the prosecutor presented establishes reasonable grounds to believe that the person named has committed a crime within the court's jurisdiction."