A non-governmental organisation – Global Initiative for Food Security and Ecosystem Preservation (GIFSEP) – has advocated increased budgetary allocation to the relevant ministries and agencies to tackle climate change in Nasarawa State.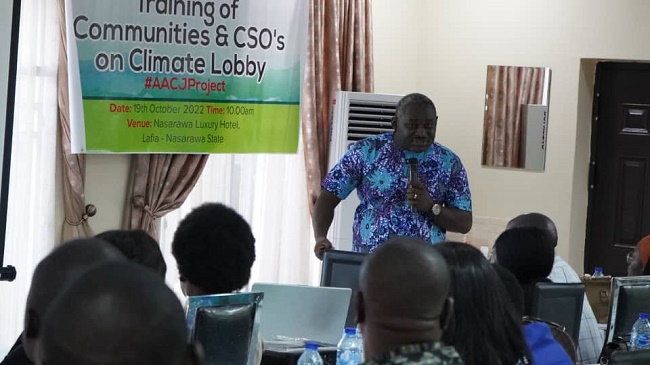 Mr David Michael, Executive Director of GIFSEP, said this at the training of 35 communities and Civil Society Organisations (CSOs) on climate activists on Wednesday, October 19, 2020, in Lafia, the state capital.
He said that this would enable the ministries and agencies to champion the course of climate change and tackled its impacts in the state.
According to him, increased funding for relevant ministries such as Environment and Natural Resources, Agriculture and Water Resources, Women Affairs, Youths and Sport, become necessary to tackle climate change related impacts in the state.
"One of the ways we feel that climate change can be tackled is through appropriate financial provision to be increased in the relevant ministries and agencies for adaptation building and planning.
"Essentially, climate change is impacting on us as it already evident with the severe flooding the entire nation is witnessing; Nasarawa State is not an exception.
"Flood has destroyed farmlands in Doma, Nasarawa, Toto, Awe even parts of Lafia Local Government Area in the state," he said.
He noted that the destruction of farmlands by flood had led to severe economy lost thereby increasing poverty, hence the need to build resilience and adaptation strategies to mitigate impacts of climate change on the communities.
Michael said that the training of communities' activists and CSOs on lobby was to enable them to respectfully engage with policy makers for climate action in the state.
He explained that the programme was a continuation of African Activists for Climate Justice Project, being implemented by GIFSEP in Nasarawa State, with support from Oxfam in Nigeria.
Hadiza Attah, climate change activist and a participant, commended GIFSEP for the training.
Attah said that she would utilise the knowledge of the lobby training to engage policy makers to make policies that would help in building resilience and support climate campaign.
Also speaking, Obadiah Solomon-Ovye, Development Practitioner and Climate Enthusiast, a participant, said going forward he would engage more in activism and more partnership as well as using the lobby training to engage his representatives to achieve a collective solution to climate change issues.
By Oboh Linus