Grenadines Homes, a member of the Palton Morgan Holdings conglomerate, is poised to boost the Nigerian economy with an ultramodern estate development scheme that is estimated to gulp a whopping N40 billion.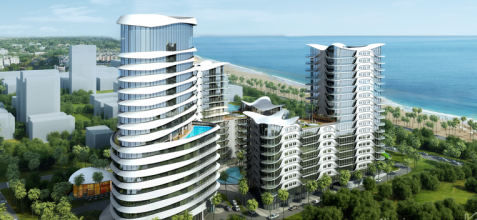 Tagged "Atlantic Resort", the project is expected to attract both local and foreign direct investments, while also providing numerous employment opportunities.
At a brief ceremony held on Friday, July 28, 2017 at the company's head offices on Victoria Island in Lagos for the signing-on of Messrs Cappa & D'Alberto as the main building contractor to the project, Chairman, Palton Morgan Holdings, Femi Banwo, said: "To remain ahead in the game, we chose to align with partners that share our vision, passion and commitment to advancing lives and excellent delivery."
According to him, Atlantic Resort is conceived not just to redefine the Nigeria skyline, but to confer on it a uniquely dignifying identity and boost the quest for the megacity status by Lagos.
"Hence we opted for HOK Architects, famous for their work on the Emirates Stadium in Londo, among other edifices across the world to create a unique design. We are also working with Brash Brands, which branded the Burj Khalifa in Dubai, considered the tallest building in the world," Banwo stated.
He added: "This project is being handled by the best in class consultants and professionals. And each contractor and partner has been carefully chosen because the objective is to construct to the highest quality. Hence, we are using Cappa & D'Alberto, a firm with experience, having been here since 1932, whose tenacity for excellent delivery has earned a high reputation for breathing life into complex architectural designs with high levels of comfort and safety guaranteed."
Corroborating Banwo's position, Adeyinka Adesope, Group Managing Director, Palton Morgan Holdings, described the project as part of the company's efforts to actualise the burning desire to play an active role in the transformation of Lagos into a megacity.
His words: "The vision driving this project is to build an iconic world class project that will be the pride of the nation, a project that every Nigerian at both home and abroad can be proud of while also meeting the taste and lifestyle aspirations of discerning individuals, irrespective of nationality or creed, and I can see today that we are achieving that."
The Atlantic Resort will be a luxury destination that will boast of world-class amenities, it was gathered.
Adesope added: "We see an evolution of prosperity, where both national and expatriates will long to live, work, relax and go about their legitimate activities. We are optimistic that this project would expand the tourism potentials of Nigeria. The retail spaces will deliver a premium lifestyle offering, while the exclusive offices will be built to a Grade 'A' specification."
Atlantic Resort is located on Water Corporation Drive, off Ligali Ayorinde Street, Victoria Island Annex. The first phase of the project sits on approximately 20,000 square metres of land with eco-friendly surrounding and circulation. The estate will accommodate various classes of residential apartments, hotel apartments and office spaces.
Other consultants to the project include: ECAD (architectural designer and project manager), CA Associates (mechanical and electrical engineering consultants), MOA (structural engineers) and Tillyard (quantity surveyors).
Grenadines Homes is a real estate development company dedicated to reinventing the concept of home ownership in Nigeria. The company, according to officials, aims to create estates at the fore front of cutting edge architecture, thereby building homes that represent luxury and high class that suit varying tastes and preferences. The company is currently developing several residential projects in Lagos and Abuja.