The Green Climate Fund (GCF) Board has closed its 28th meeting, approving 15 new climate projects totaling $7.5 billion including $1.2 billion in GCF funding and $6.3 billion in co-financing, for low-emission, climate resilient development.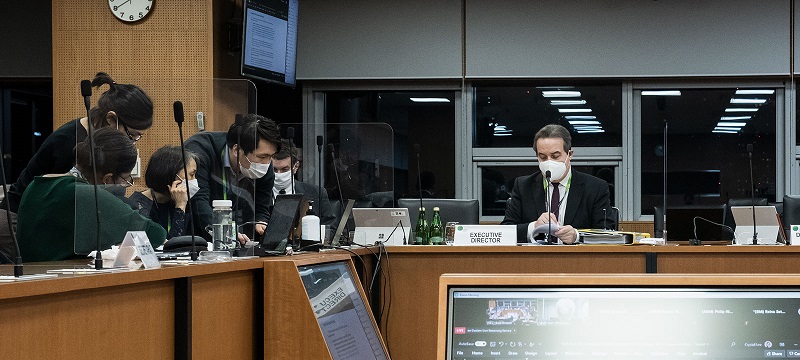 The new projects raise GCF's total portfolio to $8.4 billion in GCF resources, $30.3 billion including funding from all sources. The newly approved projects and programmes are listed below.
The Board adopted an updated review procedure for the independent Technical Advisory Panel, strengthening the capacity of GCF to deliver programming during its GCF-1 period. The Board also adopted measures to strengthen the monitoring and evaluation of its portfolio, by addressing gaps in the current portfolio for measurement. These were based upon recommendations from the Independent Evaluation Unit.
The Board meeting was presided by Co-Chairs José De Luna Martínez and Jean-Christophe Donnellier, who were elected to preside over the Board meetings during 2021.
Co-Chair José De Luna Martínez, from Mexico, stated: "In approving $1.2 billion of new climate finance the GCF Board is providing strong support for developing countries to increase climate action in the face of COVID-19. These projects will transform the lives of individuals bearing the brunt of climate change, creating new pathways for low-emission, climate-resilient development."
Co-Chair Jean-Christophe Donnellier, from France, said: "We need to speed up the climate actions of all countries as we approach the crucial COP26 climate meeting in Glasgow at the end of this year. This Board meeting has helped accelerate this momentum, displaying GCF's growing capacity to fill the climate finance gap through increasingly innovative ways to assist national and cross-border initiatives."
GCF Executive Director Yannick Glemarec stated: "2020 was a record year of programming for GCF, and we have started this year with even greater ambition. We are building our portfolio rapidly, and at the same time accelerating our efforts to deliver climate finance on the ground with more projects under implementation. With the world grappling with the twin challenges of climate and COVID-19, it is critical that we build back better, supporting the climate ambitions of developing countries whilst helping them recover from the economic impacts of the pandemic."
The 28th GCF Board meeting approved the following projects and programmes:
$175 million for Mongolia: Aimags and Soums Green Regional Development Investment Program (ASDIP), with ADB (FP154)
$25 million for Building resilience to cope with climate change in Jordan through improving water use efficiency in the agriculture sector (BRCCJ) with FAO (FP155)
$300 million for ASEAN Catalytic Green Finance Facility (ACGF): Green Recovery Program with ADB in Cambodia, Indonesia, Lao People's Democratic Republic, Malaysia, Philippines (FP156)
$23.9 million for Coastal Resilience to Climate Change in Cuba through Ecosystem Based Adaptation – "MI COSTA" with UNDP (FP157)
$36.8 million for Ecosystem-Based Adaptation and Mitigation in Botswana's Communal Rangelands with Conservation International (FP158)
$29 million for PREFOREST CONGO – Project to reduce greenhouse gas emissions from forests in five departments in the Republic of Congo with FAO (FP159)
$17.3 million for Monrovia Metropolitan Climate Resilience Project with UNDP (FP160)
$52.8 million for Building Regional Resilience through Strengthened Meteorological, Hydrological and Climate Services in the Indian Ocean Commission (IOC) Member Countries with AFD in Comoros, Madagascar, Mauritius, and Seychelles (FP161)
$82.8 million for The Africa Integrated Climate Risk Management Programme: Building the resilience of smallholder farmers to climate change impacts in seven Sahelian Countries of the Great Green Wall (GGW) with IFAD in Burkina Faso, Chad, Gambia, Mali, Mauritania, Niger, Senegal (FP162)
$280 million for Sustainable Renewables Risk Mitigation Initiative (SRMI) Facility with World Bank in Botswana, Central African Republic, Democratic Republic of the Congo, Kenya, Mali, Namibia, Uzbekistan (FP163)
$137 million for Green Growth Equity Fund with FMO in India (FP164).
The following projects were also approved under the Simplified Approval Process (SAP):
$8.6 million for Climate resilient food security for farming households across the Federated States of Micronesia (FSM) with MCT (SAP020)
$0 million for Community-based Landscape Management for Enhanced Climate Resilience and Reduction of Deforestation in Critical Watersheds with JICA in Timor-Leste (SAP021)
$10 million for Enhancing Multi-Hazard Early Warning System to increase resilience of Uzbekistan communities to climate change induced hazards with UNDP (SAP022)
$9 million for River Restoration for Climate Change Adaptation (RIOS) with FMCN in Mexico (SAP023).
GCF signed project agreements (known as Funded Activities Agreements) for two of these projects, FP163 and SAP020, immediately upon Board approval of the funding decision. The immediate signing of these project agreements reflects the commitment of GCF to move rapidly to project implementation, supporting the need to deliver climate finance as soon as possible as countries build back better from the economic impacts of the COVID-19 pandemic.