Governments and corporations have been called upon to halt all new and existing fossil fuels exploration and extractive sites and activities across Africa.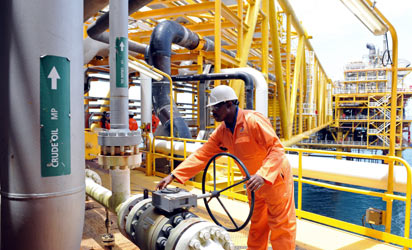 The call was made in a communique released at the close of the Annual General Meeting (AGM) of Oilwatch Africa, held virtually on August 10, 2020. The session was themed: "We can't breathe – Africa Choking on COVID and Fossil flames".
Attended by participants from 11 African countries including Nigeria, Togo, Swaziland, Mozambique, South Africa, Ghana, Kenya, DRC, Uganda, Cote d'Ivoire and Zimbabwe, the meeting surveyed the impacts of fossil fuels on the continent, both through exploitation and combustion, punctuated by the oil spill off the shores of Mauritius.
Participants also called on African governments to establish climate-resilient and just recovery models, to defend communities, stop extraction and support agroecology, through their civil society organisations.
While the COVID-19 pandemic should not be used as a yardstick to dispense with workers, to oppress citizens, or to victimise activists across Africa, said the activists, government should also not use the COVID-19 pandemic as an opportunity to pass developments that will negatively affect the environment and impact upon community's health and well-being, without proper and meaningful popular consultation.
They further insisted that governments should not lower environmental standards, suspend environmental monitoring requirements or reduce environmental enforcement as part of response measures to the COVID-19 pandemic.
African governments were also asked to support Annex Zero, by recognising and incentivising countries, nations, subnational spaces, localities, and territories that keep fossil fuels in the ground.
"We need to pressure the Global North to pay its climate debt, one aspect of this is our societies' willingness to leave fossil fuels underground. A down payment on the Global North's ecological debt to Africa is long overdue, and within this category we include the greenhouse-gas over consumers of South Africa, other the BRICS countries, and other emerging markets," according to the communique, which further states that:
Africans should resist all forms of neoliberal capitalism that deepen the extractive-export model in the Global South, causing unequal ecological exchange and in the process causing the displacement of millions, destruction of the environment, new dependencies, and recolonisation.
Africans should promote accountability for the carnage, deaths and ecocide across Africa, especially that due to worsening climate chaos.
The impact of COVID-19 on the health and livelihoods of countries already adversely affected by fossil fuels exploitation should be assessed. In such sites, communities made vulnerable by such industries – for example when people near refineries or oil wells suffer asthma – are also more susceptible to COVID-19.
A just transitioning away from fossil fuels and equitably phasing out coal, oil and gas extraction should be a fundamental part of the plan for African nations' economic recovery from COVID19 Pandemic.
Participants concluded: "We now know we owe our continent a chance to heal the terrible state of economy-society-nature relations, so that COVID-19 and other zoonotic diseases will cease, so that local ecologies recover, and so that climate catastrophe can be averted.
"We know we have consensus for these values from the rest of the continent, aside from a few corrupted souls. And we know we can and will prevail in bringing our beloved Africa to the necessary post-fossil phase of our individual and collective lives – but only with your guidance and involvement, dear African citizens."