The Nigerian government has continued to intensify its search for home-grown remedy against the ravaging climate change, relying heavily on scientific, agricultural, scholarly researches and as well as realistic ideas from its innovation-driven youth.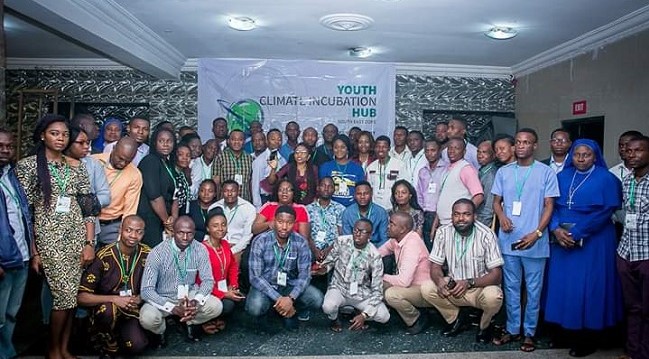 Following up on this commitment, the Federal Ministry of Environment, in partnership with the United Nations Development Programme (UNDP), hosted no fewer than 50 youth delegates in the South Eastern region of the country in Owerri, Imo State, engaging them on adaptation and mitigation-focused solutions.
Tagged "Youth Climate Incubation Hub", the event, which is being supported by the International Climate Change Development Initiative (ICCDI), Health of Mother Earth Foundation (HOMEF) and TalentPlus Resources International, is being simultaneously held in other five geo-political zones of the country, with rigorous contestation of ideas amongst the delegates.
According to the Executive Director of HOMEF, Rev Nnimmo Bassey, after regional contestation of ideas, the grand finale will be held in Abuja, from which the three most outstanding ideas will emerge and be presented to President Muhammadu Buhari as part of his Climate Change Policy documents to be unveiled next month in the United Nations Assembly.
This development is consistent with the government's efforts to meet it obligation on the Nationally Determined Contributions (NDCs) on Climate Change, a global commitment Nigeria signed into last year September.
Nigeria's Climate Action Plans, like many other countries', is reportedly too ambitious and capital intensive, as it would require a complete switch from dependence on fossil fuel to renewable energy. It is expected to gulp the huge sum of $140billion for implementation.
Speaking at the opening of the youth climate incubation hub, Imo State Commissioner for Environment, Chief Tony Eze Okere, in his speech titled: "Unlocking Youth Innovativeness In Nigeria's Climate Action," reiterated that climate change is basically a human induced phenomenon, which has become an undeniable reality that has affected virtually every aspect of life and living.
According to him, "the changing climate portends tangible risks that threaten our very existence on planet earth. The issue of climate change is so serious that it has dominated global discuss in recent years. It calls for positive climate actions at every level of society which will ultimately culminate into the expected results.
"The only hope is for the nations of the world to undertake positive practical actions synergistically in order to cub or stop this undesirable trend," he admonished.
The Imo Commissioner for Environment said the state is Pro Climate Action, and parts of the efforts it is making as contributions to stem the tide against climate change in the country, among other facts, include "the urban renewal initiative of the Government which includes the planting of avenue trees and flood control measures within the Owerri municipality while yet less than three months in office.
"Furthermore, it's the avowed commitment of the Governor to recover all the Government forest reserves and estates that have been devastated or converted to other uses. As we increase our trees stock, we also increase the carbon sink within the State thus mitigating climate change," he explained.
Articulating his expectation of the ptogramme, Okere, speaking as the representative of the host government, acknowledged the appropriateness of the Youth Engagement on climate change by the government, saying it was very appropriate because "youths by their nature are vibrant and therefore are pivotal in the efforts at tackling the menace of climate change.
"They are full of energy and adventure. That is why this Roundtable that aims at unlocking youth innovativeness in Nigeria's climate action is fitting especially at this time when no effort should be spared at tackling this menace.
"I expect that this Regional Youth Roundtable, by its stated objectives, will lay a good platform for harvesting and galvanising the capabilities of Nigerian youths for positive climate actions. I have no doubt that with the ingenuity and commitment so far shown by the organisers of this initiative, success is inevitable. I therefore urge you to remain focused and make the best use of this event."
"Let me at this juncture express my gratitude to the Federal Ministry of Environment, especially the Department of Climate Change, and the United Nations Development Programme (UNDP) for this Regional Youth Roundtable on Climate Action and for choosing Owerri as the hosting city for the South-East," he said.
Making a presentation on "Overview of Nigeria's Nationally Determined Contribution (NDC) and Youth Outlooks", Mrs Dolapo John, Scientific Officer, Department of Climate Change, Federal Ministry of Environment, highlighted the need to take climate action as, according to her, climate change is threatening development across all sectors, including the priority sectors captured in the Nationally Determined Contributions (NDC) document.
She disclosed that the Hub serves as a platform to continuing interface of young people with government and development partners for the implementation of practical climate solutions.
She closed her presentation by urging all participants to think out of the box, harmonise their ideas and come up with concrete and bankable project that will be showcased at the UNSG Climate Action Summit in September in New York, and also help Nigeria in the meeting its emissions reduction target.
In a closing remark broadcast via zoom online, Dr Peter Tarfa, Director, Department of Climate Change, congratulated the participants for the success of the two-day event and reiterated that all ideas would be harmonised by the moderators, adding that no idea would go to waste.
He assured them that the new Ministers of Environment are willing to interact with young people on climate actions.

By Bankole Shakirudeen Adeshina, Owerri