The Minister of Environment, Mr Mohammed Abdullahi, on Monday, April 3, 2023, inaugurated a 40-man committee to lead the development of a National Water, Sanitation and Hygiene (WASH) Policy for Nigeria.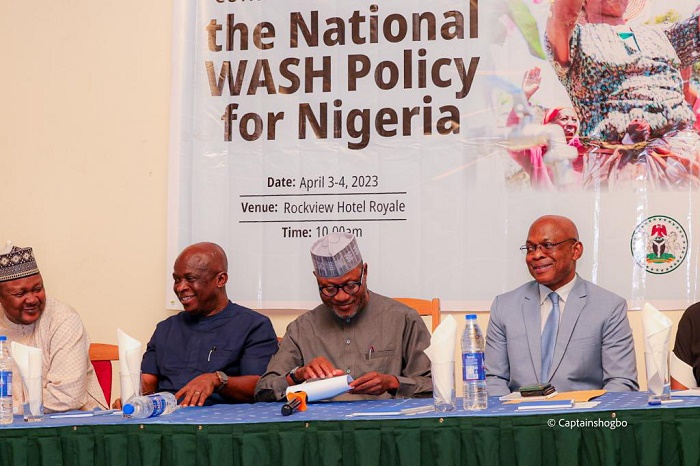 Performing the ceremony in Abuja, Abdullahi stated that the Federal Government had taken a number of critical steps towards changing the poor situation of the water and sanitation sector.
According to him, inadequate sanitation has many negative impacts beyond those on health, including feeling of indignity, insecurity, and anxiety, and additionally contributes to poverty and poor school attendance.
He said it also increased vulnerability of people to pandemics and disease outbreaks, which sometimes had fatal consequences.
"Therefore, safely managed sanitation for everyone is essential for health, general well-being, environmental protection and economic development.
"The development of the WASH Policy is fundamental to effective planning, result oriented programming and efficiency in financing, that are necessary to addressing the current unpleasant narrative."
The minister, however, pledged his commitment in implementing the policy when operationalised, calling for coordinated action from all collaborating ministries and partners.
Mr Habu Jamilu, representative of the Federal Ministry of Water Resources, expressed optimism that with the formulation and implementation of the policy, all grey areas would be addressed.
He said with adequate water and sanitation in the country, lives would be improved, and would help in the speedy attainment of the sustainable development goals by 2030.
Ms. Evelyn Mere, Country Director, WaterAid Nigeria, said current data from the 2021 WASH National Outcome Routine mapping (WASHMORM), revealed that only 10 per cent of Nigeria's population had access to basic water, sanitation, and hygiene services.
According to Mere, 68 million persons lack access to basic drinking water services, 113 million people lack decent toilets, and 48 million people practice open defecation in Nigeria.
"Again, this data is well known to us and has made us all admit that in spite of all our combined efforts, the progress is slow and the need for acceleration has become inevitable.
"We have all concluded that we must do things differently, if the narrative around WASH and the present statistics in Nigeria is to change positively."
The country director said the desire to do things differently, was what led to conversations among the ministers of Environment, Health and Water Resources, to accelerate change in the sector.
While commending the African Minister's Council on Water, for the development of African Sanitation Policy Guidelines, Mere said this would provide guidance and strategies for addressing the huge challenges in the sector.
"The inauguration of this Committee today is the culmination of the leadership provided by the ministers and their team of dedicated staff. WaterAid is proud to have been part of this process and to be associated with you all.
"WaterAid remains committed to supporting this committee and contributing to its success. We also look forward to harnessing additional support from international development partners in one way or the other. Together, we can make this happen."
Mr Soji Adeyemi, a WASH Consultant, who spoke on the need for a WASH policy in Nigeria, said there must be efforts to address uncoordinated activities in all ministries for sustainable development of the sector.
Adeyemi said WASH infrastructure development requirements for the current population were inadequate, in spite of the huge capital investments in the sector by the government.
He said federal or state governments alone could address the challenges in the water and sanitation sector, saying there was need for private sector investments to promote sustainability of all interventions.
He said it was worrisome that most states depended on external funding for their sanitation and water infrastructure, making development partners to invest heavily, hence the need for the country to have a policy to address these huge gaps.
He stressed the importance for Nigeria to develop and regulate wastewater management, saying all efforts had been targeted for water supply alone.
By Tosin Kolade