Gombe State Governor, Inuwa Yahaya, and the Minister of Water Resources, Suleiman Adamu, have signed a Memorandum of Understanding (MoU) on collaborative funding of the Gombe Regional Water Supply Project.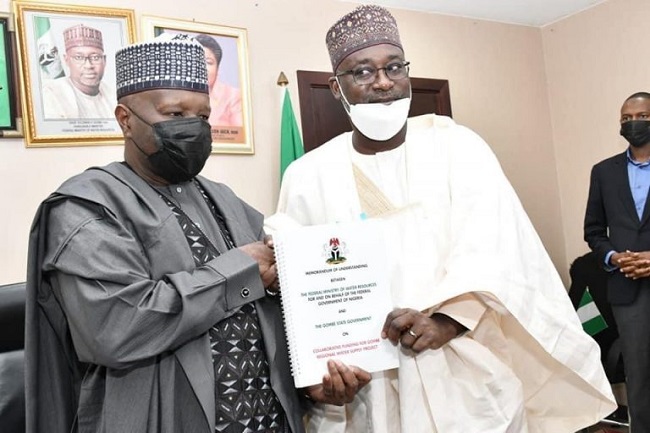 The MoU is aimed at actualising the rehabilitation, upgrading and expansion of the 50 million litres per day Gombe Regional Water Supply Scheme to improve water supply infrastructure so as to meet the emerging water demand in the state.
At the signing ceremony in Abuja, Adamu said that part of the strategies developed to address poor access to potable water supply and sanitation in the country was to foster partnerships with states.
According to him, this measure contained in the National Water Supply and Sanitation Policy had been developed since 2000 and enshrined in the current National Water Resources Policy, approved in 2016.
"The centre piece of this policy is the provision of potable water and adequate sanitation to all Nigerians in an affordable and sustainable manner in a participatory investment by the tiers of government.
"To enable us operationalise the laudable provision of the policy, I initiated a budget line for counterpart funding for urban water supply improvement, in line with the National Water Resources Policy.
"I am happy that Gombe state is one of the states to tap into the budget line, in accordance with our vision."
The minister said the obligations of the MoU included the advancement of contributory roles towards improved sustainability of the project, through financial commitment, transparent bidding processes and knowledge exchange.
He expressed hope that upon completion of the regional water scheme, Gombe's population would witness a new lease of life with benefits derivable from improved health, school attendance and job opportunities.
Gov. Yahaya, said that although the state had been partnering with the ministry, but a robust partnership had just happened with this administration.
"The Gombe regional water scheme was implemented 16 years ago, it was done in partnership and we are expanding it too.
"In spite of the challenges of time, this government has been able to put the Dadin Kowa water scheme into use and we will sustain it as it is very useful to our people.
"It is not only in Gombe metropolis, but 15 other villages spanning across 50 km of the area are benefiting, since that time, it has never tasted failure."
He noted that with insecurity, insurgence and relocation of people, the population had expanded, hence the need to expand the state's water sector capabilities.
While appreciating the federal government for its provision of potable water and sanitation, the governor assured the minister of his commitment to implement all interventions carried out in the state.
He said the state had signed the Executive Order banning open defecation by December, saying that defaulters would be penalised.
By Tosin Kolade