The Federal Government, in partnership with the Atmosfair, a German company, on Tuesday, March 21, 2023, revealed plans to distribute one million "Save80 Clean Cookstoves" annually to curtail the use of firewoods by 80 per cent.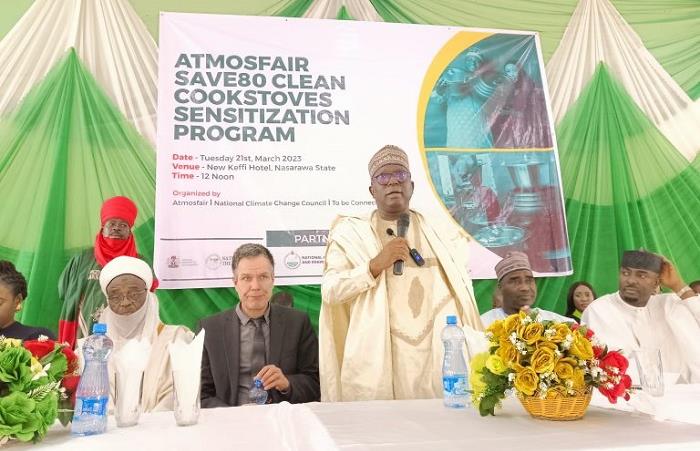 Director-General of National Council on Climate Change, Dr Salisu Dahiru, made the disclosure while briefing newsmen on the sidelines of a Sensitisation Programme for North Central Women, held in Keffi Local Government Area of Nasarawa State.
He said that the cookstove had been invented and designed in such a way that it would help families save at least 80 per cent of all the firewoods that they use in cooking a standard meal for any family.
Dahiru assured that the Federal Government would provide an enabling environment for Atmosfair to ensure that the cookstoves were made available and affordable at all times to the people.
He said: "That is exactly what we are doing and that is why we are partnering with the private sector. Remember this is an invention outside Nigeria but we made it so easy.
"And governments at the Federal and the state levels have made it possible for this company to invest in Nigeria, to set up a factory in Kano and set up an assembly plan here in Agada village, Keffi where they will bring the completely nocked down pieces and assemble it.
"As far as these factories are concerned, the target is to be able to produce on an annual basis, one million of these cookstoves and distributed annual but we are starting on a phase by phase basis.
"We are going to start with about 100,000 and then increase the capacity of the assembly plant because once the existing plan is working they are going to open another one in Kebbi state so that by next year the target will reach about 500,000 on an annual basis and then we seal it up to one million per annum."
The director-general said that the issue of climate change was one of the most important issues that affect everybody, both the rich and poor, small or developed countries.
Dahiru said that one way by which the effects of the climate change could be controlled was by tree planting, noting that cutting down the trees was one sure way that has led the world to fall into the problem.
He said: "In Nigeria, we know that one of the ways we harvest and use trees is for cooking. Remember, we have a population of over 200 million, if 80 per cent of these 200 million are relying on firewood as the main source of energy for cooking and heating whether it is direct firewood or you are using charcoal is all firewood.
"Tell me the area that will be felt every year just to get firewood for cooking is so much that if something concrete is not done, then we will continue to deflect our forests, we will lose the forests and we will lose the soil.
"And it will not be able to support agriculture and then it will become desert and people will migrate and go to the areas where there is still little forest and the community in those places where you have little forests begin to resist them and then communal clashes will come."
Earlier, the Chief Executive Officer of Atmosfair gGmbh, Dr Dietrich Brockhagen, explained that the cookstove not only save about 80 per cent of cost, but it also has 10 years guarantee.
He said: "When I first came to Nigeria 10 years ago, I traveled from the Lagos in the South West up to Katsina and when I saw the beautiful landscape and I met so many Nigerians and I realised how much forest was degraded.
"I saw many women cooking with firewoods and they were suffering from pollution and I said okay there must be solution to this and some of my Nigerian friends told me that even the tension between herders and farmers sometimes can be linked to erosion and land degradation.
"So, I said may be if I bring efficient cookstove to Nigeria it might be a solution and there could be changed and this is what I have been trying ever since."
Also speaking, Amb. Faruk Malami-Yabo, the Chairman, Board of Advisory of the company and former Nigerian Ambassador to Jordan, said the cookstoves would not only enhance cooking process, but also save the environment from the negative effects of climate change.
He revealed that the company would distribute no fewer than 6.7 million cookstoves over the next five years in the country.
The high point of the sensitisation programme was the demonstration of the usage and efficiency of the cookstoves.
By Salisu Sani-Idris