The Federal Government (FG) of Nigeria has been urged to commit adequate funds to address the growing menace of malnutrition, with experts and stakeholders saying the way to avert the danger is for the country to not just fund projects targeted at treating the millions of children stunted by malnutrition but commit to awareness campaigns to prevent the disease.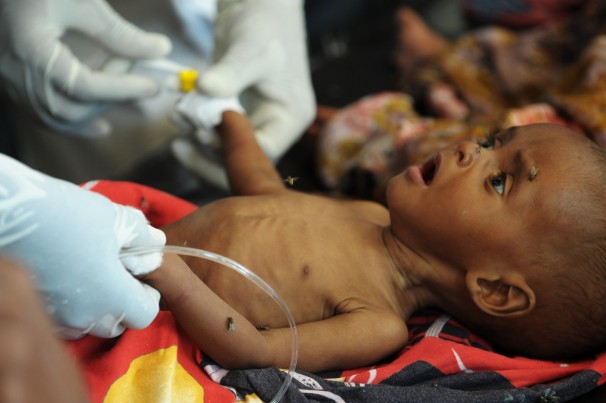 Speaking recently in lagos at a one-day symposium on "Malnutrition, child development and the media" organised by the Media Centre Against Child Malnutrition (MeCAM), Sunday Okoronkwo, a project manager at the Civil Society on Scaling Up Nutrition Nigeria (CS-SUNN), explained that the country currently does not have proper funding to address the problem, warning also that figures such as 11m Nigerian children being stunted may well be a poor representation of the reality.
Okoronkwo, who stood in for CS-SUNN project director, Mrs Beatrice Eluaka, at the event also attended by other top pro-nutrition civil society groups, including Community Health and Research Initiative (CHRI), Scaling Up Nutrition Business Network Nigeria and Global Alliance on Improved Nutrition (GAIN),  lamented that the country's $912 million action plan on nutrition for the years 2014 through 2019 remains largely unfunded, with Nigeria's $100 million counterpart funding of the policy hardly making it into the annual budgets.
According to him, the country's 2017 budget has no provision for the plan which expires in 2019.
Speaking on "Dealing with nutritional Fads and Fallacies", Dr. Aminu Garba, chairman of CHRI, called for declaration of emergency on malnutrition, even as he clamoured for sustained media engagement, among other steps, to address the many fallacies around the question of nutrition.
Garba outlined these to include cultural claims that giving newborns colostrum exposes them to witchcraft or that children and women should not eat meat or take adequate milk.
Remmy Nweke, the national coordinator of MeCAM Nigeria, said the organisation evolved from the unique need for the media to respond to the national emergency on malnutrition. He insisted that government's funding to combat malnutrition is not "commensurate" to the volume and potential consequences of the unfolding crisis.