The United Nations Industrial Development Organisation (UNIDO) has submitted the Reviewed and Updated National Implementation Plan (NIP) for the Stockholm Convention on the elimination of Persistent Organic Pollutants (POPs) to the Federal Government.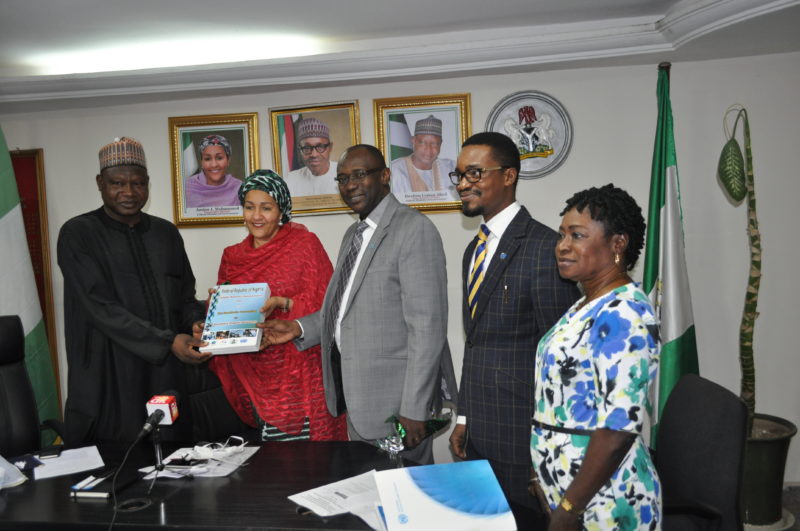 The Stockholm Convention is an international treaty developed to protect human health and the environment from Persistent Organic Pollutants. The Treaty was adopted in 2001, but came into force in 2004, which Nigerian ratified the same year, thereby becoming a member of the Conference of Parties (COP). It aims at eliminating or restricting the production and use of all POPs, transition to safer alternatives and cleaning up old stockpiles among other things.
Speaking during presentation of the NIP in Abuja, the United Nations Deputy Secretary General and Nigeria's immediate past Minister of Environment, Amina. J. Mohammed, commended UNIDO for working together with Global Environmental Environment Facility (GEF) and other stakeholders to produce the NIP, noting that the Plan would enable Nigeria access international technical support and meet her obligations under the obligation, while integrating POPs management into the country's national development plans.
She said, "I am most delighted and appreciative of UNIDO's continuous support and for a job well done. The Updated NIP being unveiled today is a product of inclusive stakeholders' participation and serves as the renegotiated and reinforced National Policy Framework for addressing priority POP issues in Nigeria, in line with her obligations under the treaty. With the Reviewed and Updated NIP, Nigeria will now focus on short, medium and long term strategies for developing programmes and partnerships on POPs management aimed at safeguarding human health and the environment.
In his remarks, the Representative of UNIDO Regional Office in Nigeria, Dr. Chuma Ezedinma, said the presentation of the Updated and Reviewed NIP to the Federal Government of Nigeria marked another milestone in the history of Nigeria-UNIDO collaboration for building a sustainable environment for its people, industries and the global community.
Ezedinma said, "I want to commend the efforts of the Federal Ministry of Environment and the team within the Ministry who worked tirelessly with UNIDO to ensure the success of this Plan for Nigeria, We hereby reaffirm UNIDO's commitment towards working closely with the Government of Nigeria. In respect of this, UNIDO will continue to support the Federal Government of Nigeria and the Federal Ministry of Environment to promote sustainable activities for our environment as we match towards inclusive and sustainable industrial development.
"UNIDO is currently in partnership with 48 countries, assisting them in Reviewing and Updating their NIP, developing and implementing projects. We are working with the Federal Ministry of Environment in the areas of protecting the ozone layer, Minamata Convention on Mercury, National Policy development and dialogue, development of bio-pesticides as a response to the EU ban on some food exportation, water stewardship and management, mining, resource efficiency and cleaner production and other areas of environmental sustainability and development."
As a party to the Stockholm Convention, it is an obligation for the country to develop Enabling Activities of NIPs for enablement to identify and develop structures for implementation of programmes towards the Convention requirements. In April 2009, with UNIDO's assistance, Nigeria submitted its National Implementation Plan to the Secretariat of the Stockholm Convention. In 2014, UNIDO again began collaboration with the Federal Ministry of Environment to review and update Nigeria's National Implementation Plan for the Stockholm Convention.
Nigeria finalised her first NIP in 2009, with support from GEF and UNIDO. This led the groundwork for developing and implementing priority projects, regulatory reforms and other initiatives targeted at achieving a POPs-free environment. POPs are a group of hazardous chemicals of global concern with wide occurrences as industrial raw materials in consumer goods, waste electrical electronic equipment (WEEE), pesticides or unintentional emissions
Long rage dispersion of POPs constitutes a great threat to human and environmental sustainability, irrespective of international borders, national sovereignty, gender or social class. Documented burdens of human exposures to POPs include cancer, congenital defects, dysfunction of immune and reproductive systems and shortened lactation in nursing mothers among other hazards.