The Federal Government has reiterated its commitment to ensuring that high premium was continuously placed on the health of Nigerians, while ending Tuberculosis (TB) remains on its priority list.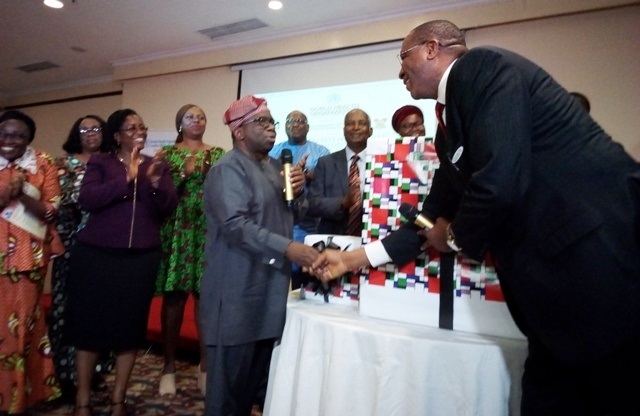 Minister of Health, Prof. Isaac Adewole, who gave the assurance on Tuesday, September 4, 2018 in Lagos at the "National Public/Private Mix (PPM) Summit for Tuberculosis Control in Nigeria", disclosed that budgetary allocation for TB control would be increased in the 2019 budget.
He wouldn't give details of the allocation but added: "We will likewise put an incentive package for TB control in the 2019 budget. It doesn't have to be in Naira; something to encourage you."
The minister facilitated the donation of a GeneXpert Machine to El-Lab Limited, a health laboratory firm and private medical diagnostic and research centre.
Adewole said: "To achieve our goal of ending TB epidemic by 2030, additional support and effort are required.
"We must expand our current frontiers of control of TB as the disease impacts negatively on the health, welfare of individuals and economy of the nation.
"We require active involvement of private healthcare providers and corporate organisations to make Nigeria free of TB.
"This event is a demonstration of the commitment of this administration.
"As part of our commitment to this partnership, a GeneXpert machine procured by FMoH will be handed over to one of the private diagnostic centres to support active TB case finding in Lagos State."
According to him, to scale up this gesture to other centres, FMoH requests corporate organisations to be enlisted to support in the provision of diagnostic facility to other health centres.
He said that TB has serious consequences on the affected individuals, families and the nation's economy.
"It has orphaned children and taken many breadwinners away with severe consequences on the economic welfare of families and also on the economy of the nation.
"This trend must not be allowed to continue,'' Adewole said.
On efforts made by the ministry in controlling the scourge, Adewole said that the ministry had established the National TB Control Programme, which developed the National TB Strategy 2015-2020 framework.
The framework is aimed at addressing the country's TB burden.
"The framework is consistent with the 'End TB Strategy' and incorporates the most recent internationally recommended diagnostic and treatment strategies.
"With support from a coalition of partners, the country currently delivers TB treatment and care through a network of over 7,000 health facilities accredited by the National TB and Leprosy Control Programme (NTBLCP) up from 3,931 in 2,010.
"Similarly, the number of Drug resistant TB (DR-TB) treatment centres has been progressively increased from 10 in 2013 to 28 in 2017.
"There are ongoing efforts by the ministry to ensure Universal Coverage of TB care and prevention.
"To achieve this, a resolution was passed at the 60th National Council of Health meeting held last year, to include TB service delivery in the Primary Healthcare Minimum Health care package,'' he said.
The minister added that the cutting-edged technology to enhance TB diagnosis in the country had also been developed.
Adewole said that, in spite of the progress recorded over the years, the TB control efforts was still challenging.
According to him, paramount are the issues of funding, creating awareness and stopping stigmatisation.
Others include locating an estimated 302,000 missing people with TB and 74 per cent of total estimated cases who were not detected annually.
Prince Elochukwu Adibo, the Laboratory Director of El-Lab, who's firm received the GeneXpert machine, called for collaboration with other private health partners to wholly end tuberculosis.
The GeneXpert machine can detect tuberculosis in a sample of sputum.
Adibo said: "We are really happy to have this machine; it is a call for collaboration, rather than having any form of bitterness, rancor or misunderstanding; there is so much work to do.
"We have over 300,000 tuberculosis cases out there we should look for; people like you and I, our neighbours, colleagues, among others.
"These are cases that we should look out for and put our efforts together in diagnosis and treatment to make things different and eliminate this terrible disease that is really a scourge in Nigeria health sector.
"So, we are happy to be part of it and we are strongly representing ourselves as a key operator in the private sector to make a difference,'' Adibo said.
Dr Tunji Akintade, the Chairman, Association of General and Private Medical Practitioners of Nigeria (AGPMPN), pledged commitment to collaborate with the government and other partners.
"My association is willing to partner with the government and the partners, even if it is to own the wellness on wheel machine and go into the country so that we can reduce tuberculosis burden in Lagos.
"Lagos is at a disadvantage because it is seen as an urban centre; minute by minute we see people trouping in to the state.
"We have created an opportunity to present a model.
"If honoured by the Minister and our Commissioner for Health, it is something that will reduce the burden in terms of detecting and reporting, as well as treating a tuberculosis case outright,'' Akintade said.
Also, the Secretary of the Association of Community Pharmacist in Nigeria (ACPN), Mr Okotie Jonah, said that fighting tuberculosis was the responsibility of all.
"Tuberculosis fight is something we should all be involved in because there is responsibility for everybody.
"We are going to do a lot of referrals when persons with tuberculosis conditions come to us, we have partners we refer them to.
"Beyond the referrals, there are also drug centres whereby the persons will be referred to for diagnosis.
"So, it is a teamwork that should be brought together and change the narrative of health system globally,'' Jonah said.
The event was jointly organised by the Federal Ministry of Health (FMoH), World Health Organisation (WHO), Lagos State Government, and Stop TB Nigeria, among others.
By Vivian Ihechu and Lydia Ngwakwe