The Director-General, Debt Management Office (DMO), Ms. Patience Oniha, says the Federal Government is planning to issue N10.6 billion green bonds to finance renewable energy projects to protect the environment.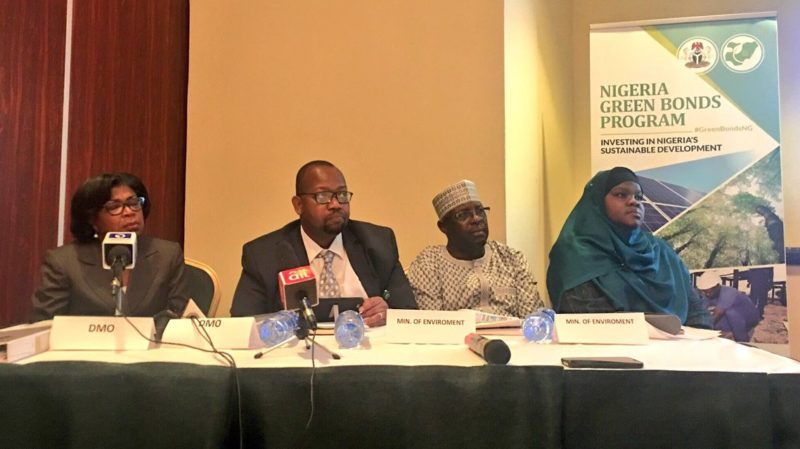 Oniha said this in Abuja on Thursday, December 14, 2017 at the Nigeria Green Bond Investors Forum, organised by the Federal Ministries of Environment and Finance, in collaboration with Green Bond Advisory Group.
She said that the forum was to educate prospective investors in the Green Bond programme to know the benefits of investing in green bond projects.
The director-general said the Federal Government acted to borrow the N10.6 billion, in line with its borrowing agenda contained in the 2017 budget.
According to her, more funds will be allocated to finance green bond projects in the subsequent budgets.
Oniha said that the bonds would be used to finance three renewable energy projects, which were Renewable Energy Micro-Utilities Programme, Re-energising Education Programme and Afforestation Programme.
Also speaking, Alhaja Halimat Bwari, the Deputy Director, Department of Climate Change, Federal Ministry of Environment, said that N142 billion would be required to finance renewable energy projects in the country.
Bwari said that the ministry decided to issue the Green Bond as alternative source of funding because of the huge capital outlay required to finance the nation's renewable energy projects.
She noted that the bond would boost the nation's economy and protect the environment. Besides, Bwari said that the ministry had inaugurated five low-carbon growth projects.
She listed the projects as the Rural Energy Access, the Great Green Wall Programme, the National Clean Stoves Scheme, the Clean Energy Transportation Scheme and the Nigerian Erosion and Watershed Management Project.
She said that the projects would go a long way to reduce carbon emissions in Nigeria, while facilitating the country's efforts to meet its commitments in the Paris Agreement on Climate Change.
News Agency of Nigeria (NAN) reports that stakeholders that participated in the forum include Pension Funds Administrators (PFAs), Federal Ministry of Finance, Inter-ministerial Committee on Climate Change and Nigerian Stock Exchange (NSE).
Others are DMO, Central Bank of Nigeria (CBN), Securities and Exchange Commission (SEC), the World Bank and Chapel Hill Denham as well as representatives of private sector organisations.
By Deji Abdulwahab