The Federal Government has initiated a National Oil Spill Contingency Plan (NOSCP) for the clean-up and remediation of impacted oil spill sites in the country, an official has said.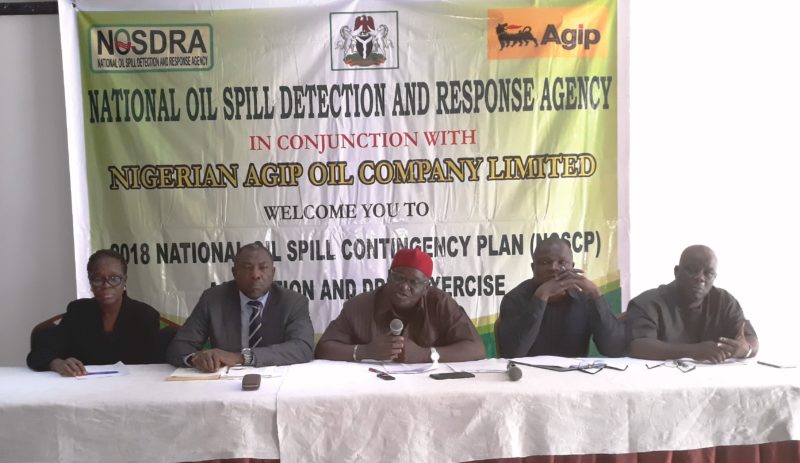 Mr Peter Idabor, Director General of the National Oil Spill Detection and Response Agency (NOSDRA), said this at the flag-off of a Joint Activation and Drill Exercise in Port Harcourt, Rivers State, on Tuesday, April 17, 2018.
He said the exercise, which is in collaboration with the Nigeria Agip Oil Company (NOAC), would ensure timely, effective and appropriate response to oil spills in communities.
"The objective is to test the effectiveness of our incident management structure and emergency preparedness of all major stakeholders in oil spill containment and management.
"The exercise will also ensure the effectiveness in inter-agency collaboration as a necessary ingredient in responding to oil spill incidents,'' Idabor said.
He further said the exercise would open communication between stakeholders, communities and the media as well as ensure clear understanding in the line and chain of command.
"Similarly, it will help assess availability and effectiveness in the deployment of oil spill response equipment and technical personnel.
"The National Oil Spill Contingency Plan will incorporate useful recommendations and updates arising from the exercise," Idabor added.
He said the agency had succeeded in its bid to become a regional coordinating centre for oil spill preparedness and response in the West, Central and sub-Saharan Africa.
The NOSDRA boss urged stakeholders to take the exercise as call to national duty.
Also speaking, the General Manager, District of NOAC, Mr Rotondi Marco, said his company was delighted to partner with NOSDRA towards the protection of environment from oil spillage.
Represented by Uchechukwu Amaechi, NOAC's Manager of Environment, Marco said that arrangement had been put in place to ensure hitch-free activation of the plan.
"NOAC will continue to collaborate with NOSDRA knowing the exercise is vital in ensuring preparedness when oil spill occur," Macro said.
By Desmond Ejibas