The Federal Government has been commended for its commitment to tackling climate change since President Muhammadu Buhari signed the Paris Agreement on Sept. 22, 2016.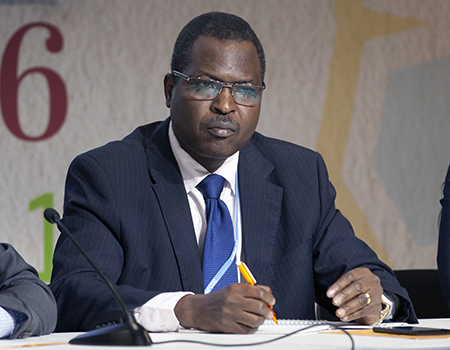 Mr Richard Inyamkume, Senior Programme Officer, Climate Change Mitigation and Adaptation Initiative (CCMAI), gave the commendation in Abuja on Friday, October 20, 2017 in an interview with the News Agency of Nigeria (NAN).
Inyamkume expressed his happiness with several green initiatives that were launched by the Federal Government to mitigate the effects of climate change on the citizenry.
''An initiative such as the Great Green Wall Project has made positive contributions toward improving Nigeria's climate, especially in the area of tree planting.
''I am aware that several eco-friendly projects have been launched at different levels within the country toward improving Nigeria's climate and green environment,'' he said.
He recalled that on Nov. 4, 2016, the Paris agreement entered into force with 197 parties signing, Nigeria inclusive, adding that President Buhari appended his signature to the agreement on Sept. 22, 2016.
''President Buhari ratified the agreement on March 28, 2017, making Nigeria the 146th member of the UN to have ratified the treaty.
''This is a global demonstration by Nigeria that she is faithful to international agreements.
''Nigeria is working tirelessly to actualise her commitment to the Paris Agreement.
''The Department of Climate Change under the Federal Ministry of Environment and several Ministries, Departments and Agencies (MDAs) of government have been working on policies and strategies that will assist the nation to meet her Nationally Determined Contribution (NDC).''
According to him, many non-governmental Organisations (NGOs) and Civil Society Organisations (CSOs) have been collaborating with relevant stakeholders to achieve this goal.
''The future of our nation is in our hands. We cannot fold our arms and wait for government to do everything for us.
''We need to act so as to reverse the negative trend of global warming in Nigeria.
''At least, government has demonstrated that she is ready to take the lead.
''It is now our duty to see that climate change policies are implemented at the different tiers of government as they ought to be.
''At the moment, there have been approved national strategic policies and plans of action on climate change,'' he said.
Inyamkume said if these policies and plans of action on climate change were carefully implemented, it could foster the development of low carbon growth initiatives.
He added that it would also promote clean development mechanisms and earn carbon credits for the country.
By Deji Abdulwahab