The Elephant Protection Initiative (EPI) Friend of the Month for May 2023 is Dominique Gonçalves, who runs the Elephant Ecology Project in Gorongosa National Park, in Mozambique. According to her, the Gorongosa elephants are recovering well, with a current population of over 1,000, a significant increase from the approximately 200 that survived the 16 years of war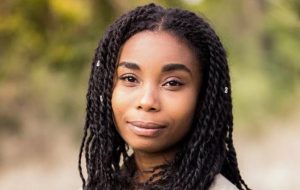 Please tell us a little about your childhood and how your interest in the natural world first started…and how did you launch your career in zoology and conservation?
I was born and raised in the port city of Beira in central Mozambique. I grew up with my two sisters and parents, and always heard my father telling us about his experiences when he worked in forestry. I always had a huge interest in gardening and flowers (probably from my mother) but it wasn't until I was in sixth grade, when one of my teachers brought in a magazine which highlighted the work of Wangari Maathai, that I became inspired by environmental issues.  She was my biggest role model.
That led me to study Ecology and Conservation of Terrestrial Biodiversity at Eduardo Mondlane University in Maputo. From there, I took every opportunity to join research projects as a field assistant. My eagerness to learn led me to Gorongosa National Park, and I was sent for ornithologist training in the USA. That is what connected me to [the elephant ecologist] Joyce Poole, for whom I worked as an intern.  I pursued my MSc in Conservation Biology and after finishing, I started the Elephant Ecology Project in Gorongosa which I currently manage.
Gorongosa is a famous park, but it has a tragic history, doesn't it?
Yes, Gorongosa National Park was once one of Africa's greatest parks. It supported some of the densest wildlife populations in Africa, but animals and habitats were decimated during years of civil war until 1992. In 2008, the Mozambican government entered into a partnership with the Carr Foundation for the joint management of the park. This majestic place is a now success story for conservation and restoration and teaches us a lot about resilience. Gorongosa National Park proves that socio-ecological systems that suffered from conflict can be revived, if given time and support.
How are elephants doing today in Gorongosa? And what are the biggest challenges that you see in the future?
Gorongosa elephants are recovering well. We now have more than 1,000 elephants, which is a great increase from the approximately 200 that survived the 16 years of war. In this recovering elephant population, however, we can see the scars of the past. There is a high percentage of females without tusks. And the elephants can be aggressive.  They are traumatized and less tolerant to human presence. Their fear is certainly justified. However, Gorongosa is now a very welcome environment for researchers and tourists and is becoming world famous once again.
I think the biggest challenges are loss of habitat, and human-elephant conflict. We have to navigate carefully where people live and where elephants live. Coexistence between people and elephants is imperative and challenging; we need to acknowledge they both need space. How we move from conflict to coexistence, and how we integrate land use planning to satisfy the need of both species is delicate and crucial. Compromise will be necessary, and that is another challenge.
You spend a lot of time with communities around Gorongosa. How would you describe their attitude to the park? Do you encounter much support, or indeed hostility, towards what you're trying to achieve?
Working in a place with a past of colonial dispossession and postcolonial conflict, and poverty, makes it inevitable that not all stakeholders are satisfied. There is a range of attitudes both within and among communities. They have deep rooted ethics of cultural conservation, but they also need viable livelihoods. Human–wildlife conflict complicates matters. However, Gorongosa has a 30-year plan to be a human development engine, providing access to employment, health, and education.  Tourism revenue and sustainable development are certainly the way to go to ensure that people enjoy the benefits of their natural heritage.
Mozambique is a large and beautiful country. Where is your favourite place to relax and unwind?
I have three favourite places. When in Gorongosa, it is the fever tree forest along Road 3, watching the sunset, with the trees in a golden glowing light, and smelling the aromas from their flowers.  In Beira, my favourite place is actually at home, in the neighbourhood I was born and grew up in, with my sisters and our childhood friends, either eating green mangoes with salt, sugar cane or cooking cassava with coconut milk. Otherwise, in Inhambane, at my best friend's mother's house near the beach, surrounded by chickens, ducks and piglets.