Gombe State Government on Wednesday, December 2, 2020 signed a N2.928 billion contract with the Nigerian Erosion Watershed Management Project (NEWMAP) for the commencement of the project at the Gombe State University erosion site.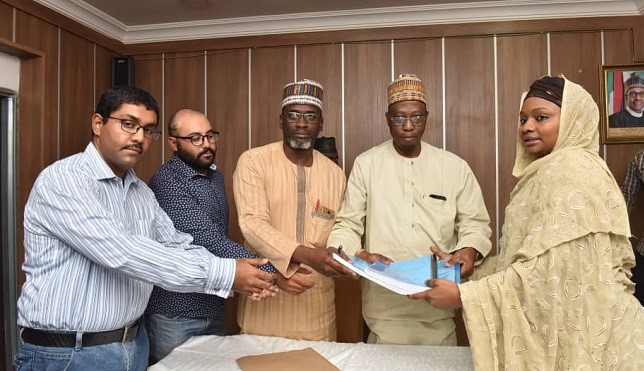 At the ceremony in Gombe, the Secretary to the Gombe State Government, Ibrahim Njodi, said the state government was committed to addressing the environmental challenges in the state.
Njodi stated that it was as a result of the commitment of the present administration that Gov. Inuwa Yahaya approved the release of the N500 million counterparts funding for the project.
He thanked the World Bank and NEWMAP for partnering with the state government, adding that the project would go a long way in easing erosion threats in the state.
Njodi appealed to NEWMAP, the state's ministry of environment and the contractor handling the project to move to the site for the commencement of works immediately.
He also appealed for efforts to be stepped up on the remaining four projects approved by the World Bank in the state.
Also speaking, the Gombe Commissioner for Environment and Forest Resources, Hussaina Goje, said Gombe State was amongst the 23 NEWMAP states under the World Bank project.
Goje noted that the project was to address the severe gully erosion in the short term, while reducing soil erosion and climate vulnerability in the medium term.
She stated that out of the 40 active erosion sites submitted to World Bank for consideration and approval in the state, only five were approved.
She stated that Gombe State NEWMAP had been able to carry out detailed engineering designs for two out of the five sites, while the designs for the remaining three were still on-going.
She added that the state government was committed to addressing the environmental challenges in the state through the establishment of woodlots, rehabilitation of forests and massive tree planting campaigns.
The coordinator of NEWMAP in the state, Mr Mohammed Garba, commended the state government for its efforts in tackling erosion menace.
Garba stated: "The project is about N3 billion and it is supposed to be completed in seven months and it has a length of 4.4 kilometres."
On his part, Mr Emiran Khan, Project Engineer for Triacta Nigeria Limited, assured that the project would be done to specification with quality work for the benefit of the good people of the state.
By Peter Uwumarogie