The recently elected executives of the Guild of Corporate Online Publishers (GOCOP) on Friday, August 25, 2017 visited Nigeria's seat of power, Aso Rock, in Abuja.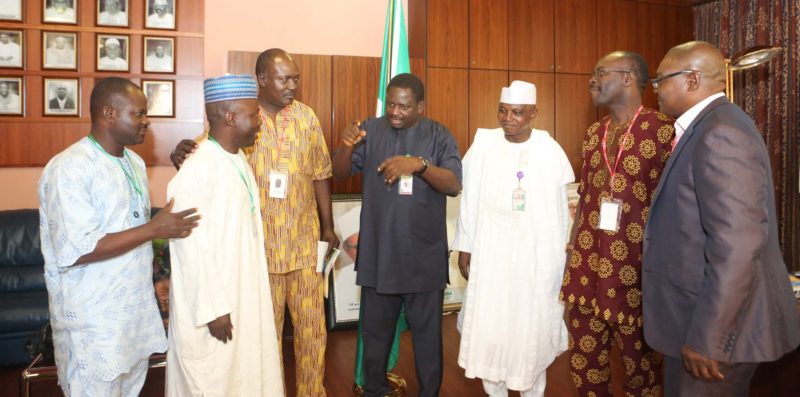 The GOCOP team, led by its new President, Dotun Oladipo, was received by the Special Adviser to the President on Media, Mr. Femi Adesina, as well as Mallam Garba Shehu, the Senior Special Assistant on Media and Publicity to the President.
Speaking during the visit, Oladipo expressed the Guild's gratitude to Adesina for honouring its invitation to participate in the recently-held First Annual Conference as the Chairman of the event in Lagos.
Oladipo also thanked the presidential spokesman for his longstanding support right from the formative stage of GOCOP.
Even more, Oladipo appealed that the Presidency should ensure the accreditation of more GOCOP members in order to enhance the coverage of Villa activities.
Responding to the Oladipo's speech, Mallam Shehu commended the efforts of GOCOP.
He said he chose to participate in receiving the leaders as a measure of his regard for the body.
Addressing the request for accreditation of more GOCOP members, Shehu pledged to make a case before the relevant authorities as such move will be of immense benefits.
On his part, Adesina thanked the GOCOP team for the visit.
He also said he was impressed by the obvious progress being made by the Guild of Corporate Online Publishers.
Other members of the GOCOP team during the visit to the Presidential Villa were Danlami Nmodu, the Secretary General; Simon Ibe, the Chairman of the Planning Committee of the First Annual Conference of GOCOP; Akeem Oyetunji, the Publisher of Prompt News Online; and Gabriel Akinadewo, the Publisher, Freedom Online.