Stakeholders in the biosafety and biotechnology industry have advocated for more civic education on the concept of genetic engineering (GM) to boost food production, increase economic activities, as well as safeguard human and the environmental health of Nigeria.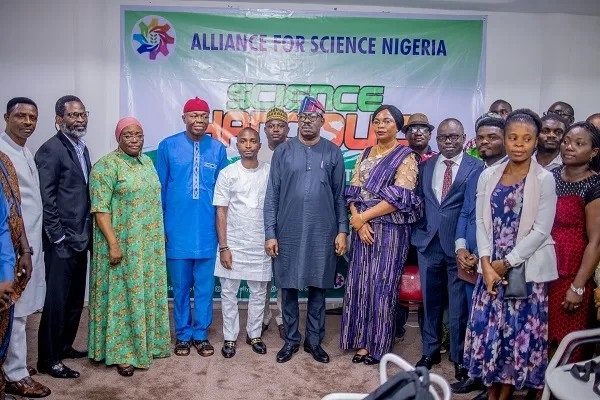 Speaking at a Science Hangout organised by the Alliance for Science Nigeria in partnership with the National Biosafety Management Agency (NBMA), and the Open Forum on Agricultural Biotechnology (OFAB, Nigeria) in Abuja, the actors expressed their position on biotechnology and why they think public enlightenment can help bridge the knowledge divide that is responsible for its slow adoption.
Dr. Rufus Ebegba, the Director General of the National Biosafety Management Agency (NBMA), while remarking on the theme of the event that focused on "Nigeria's Biosafety Regime for GMOs," said GM technology can help create employment and empower young people to provide the solutions that the country is searching for to transform itself economically.
However, the problem of misinformation continues to pull back regulatory performances, a problem the DG believes cannot be avoided since some people are already benefiting from it.
"And I think the law should be applied in the area of falsehood to serve as a deterrent because it can cause panic and even be a threat to national security," he said, which is why the NBMA is very stringent in handling the matter even if it requires seeking legal redress to prove a point.
Thus, the hangout according to the NBMA helmsman is a veritable tool that can be used to curb this setback because of its idea of bringing stakeholders together to brainstorm on how to demystify the myth around GM products and provide members of the public with the precise information they need to make the right choices.
For this reason, the nation's biosafety chief advised that the meeting should be a continuous exercise so that it can serve as a medium for public enlightenment, especially among young people and journalists.
The Country Coordinator of OFAB, Nigeria chapter, Dr. Rose Gidado, believes that Nigeria has to adopt an all-inclusive communication strategy and engage more with people to discredit this conspiracy.
"That is how we can get it right even though it's capital intensive," she said because it's a normal thing for people to take their time before accepting any new change in society.
The issue of public misconception is not unique to biotechnology alone, she noted, that other technologies the world is enjoying today also encountered similar challenges as genetic engineering.
So, Dr. Gidado proposed that more people should be taken to trial sites and demonstration farms for them to see and increase their trust.
She called on promoters of the technology to eat its products themselves to show people that they are safe and expose the lies challenging that authority.
Scientists need to work together as a team and avoid being bought over to testify against the technology, the OFAB, Nigeria coordinator appealed, because it's the most worrisome aspect of the controversy that must be addressed to win this war against deception.
Looking at the media and how it can be used to resolve this crisis, the Publisher of Food Farm news, Ayeni Dehinde, said journalists have to be well informed to enhance their knowledge of the concept of genetic modification.
If Nigeria is lacking behind and cannot export beans due to its variety, and now GM cowpea provides a solution to this predicament, which one is best for the nation, he asked?
"We need technology to get out of the economic woes that we find ourselves and GM technology in terms of its seed is part of our agricultural revolution," the media expert said, particularly in view of population growth.
He submitted that Nigeria has no other option than look to science and technology to accelerate its economic development.
The farmers were not left out of the conversation as the Vice President of All Farmers Association of Nigeria, Chief Daniel Okafor, expressed joy over the vision of the Alliance for Science Nigeria and what it is doing to decipher the falsehood against GM crops.
The science that we are talking about, according to him, is what is ruling the world and Nigeria cannot be an exception.
Chief Okafor disclosed that farmers are interested in the technology and tasked the NBMA on its job to ensure that any product brought into Nigeria by any method is safe for human and environmental health.
"We are happy because I know that what is going to happen this time is that we are going to have surplus nutritional food to feed Nigerians and farmers will start to make money because less use of chemicals is what we are talking about," he said.
By Etta Michael Bisong, Abuja