The global malaria community on Wednesday, April 18, 2018 urged Commonwealth leaders to make a game-changing commitment to halve malaria across the Commonwealth within the next five years. This, the community reasoned, would prevent 350 million cases of malaria and save 650,000 lives, predominately children and pregnant women who are most at risk.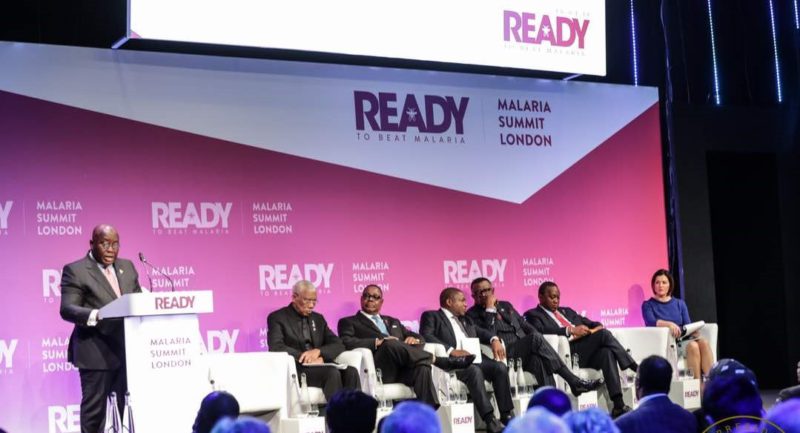 This call was made by leaders attending the Malaria Summit London 2018, co-hosted by the governments of Rwanda, Swaziland and the United Kingdom. The global Summit takes place on the eve of the Commonwealth Heads of Government Meeting (CHOGM) as the Commonwealth and its citizens are disproportionally affected by malaria – accounting for more than half of all global cases and deaths, but just one third of the world's population.
The call for leaders to be "Ready to Beat Malaria" at the Malaria Summit profiles significant commitments from governments, businesses and philanthropists ready to catalyse progress towards a goal of halving malaria.
The Malaria Summit is being held to galvanise renewed action on the disease as progress is said to have stalled. In 2016, for the first time in a decade, the number of malaria cases in the world was on the rise and in some areas there is a resurgence, according to the World Health Organisation (WHO).
According to scientists, malaria is fighting back as the mosquito and the parasite develop resistance to the interventions used to fight them. They added that this has been compounded by a plateau in global funding for malaria since 2010, climate change, which intensifies incidences of malaria, and acute malaria outbreaks found in areas of crisis, war and conflict.
To accelerate the fight against the disease, observers believe that there needs to be better deployment of existing tools and development of new and innovative solutions. Wednesday's commitments focus on three important areas to fight resurgence of the disease.
Increased Funding and Political Leadership
Renewed commitments to accelerate progress against this disease include:
The Global Fund to Fight AIDS, Tuberculosis and Malaria – which uses co-financing mechanisms to help incentivize and increase investment from both donors and malaria-affected countries to scale up the malaria response – will announce commitments totalling $2 billion from 46 countries affected by malaria between 2018 and 2020.
The UK Government has re-affirmed its commitment to spend £500 million a year on malaria through to 2020-21. As part of this, the UK announced a further £100 million match fund commitment to the Global Fund to match new contributions from private donors pound for pound. The UK also announced a new malaria programme in Nigeria worth £50 million which will run until 2024 and £9.2 million of new research funds to develop new triple artemisinin combination treatments.
The Bill & Melinda Gates Foundation will extend its investments in malaria by an additional $1 billion (£700 million) through to 2023 to fund R&D efforts and to reduce the burden of the disease towards ending malaria for good. As part of the announcement, the Gates Foundation also pledged £50 million in matching funds against the UK's £100 million commitment to the Global Fund announced by Prime Minister May.
Uganda committed to establish a dedicated malaria fund – the Presidential Malaria Fund Uganda (PMFU) – to help mobilise additional resources of $785 million by 2020 to accelerate national progress against malaria.
United Nations Foundation's "Nothing But Nets campaign" will commit to raise and provide UN partners with at least $5 million by the end of 2020 to help protect the most vulnerable populations from malaria including refugees, internally displaced persons and marginalised indigenous communities.
Accelerating Innovation
Our most effective tools (nets, sprays and treatments) in the fight against malaria are under threat from drug and insecticide resistance. The malaria parasite and the mosquitoes that carry it are evolving resistance to existing interventions – malaria is fighting back. The Malaria Summit will call for new tools to stay ahead of the disease, announcing commitments to invest in future innovations including:
GSK is committing to invest a further £175 million in its R&D efforts against malaria, including toward delivering a new single dose treatment for relapsing malaria and piloting implementation of the world's first malaria vaccine; they anticipate these new interventions – delivered on a not-for-profit basis – will reach over three million people by 2025.
Novartis will invest more than $100 million through 2023 to advance research and development of next-generation treatments to combat emerging anti-malarial drug resistance including global clinical trials for its two new malaria drug candidates.
Five crop protection companies, BASF, Bayer, Mitsui Chemicals, Sumitomo Chemical Company & Syngenta, will launch ZERO by 40, a joint initiative supported by IVCC and the Bill & Melinda Gates Foundation, to accelerate development of innovative vector control tools and extend their commitments to help end malaria for good.
Better Data Driven Solutions

Knowing where and when to target malaria interventions is critical to accelerate progress and help prevent resurgence. Commitments will include:

The Visualise No Malaria Initiative, backed by eight leading technology companies, are committing $2.6 million in cash and in-kind resources to expand its work in Southern Africa, enabling timely visual analytics for country-level officials and health workers to support malaria elimination planning and response.
The African Leaders Malaria Alliance and the Asia Pacific Leaders Malaria Alliance will promote regional and national malaria progress tracking mechanisms, allowing leaders to easily see and respond to progress and challenges.

Other significant pledges expected to feature at the Malaria Summit include commitments from a number of Commonwealth Heads of State and Government, private sector partners as well as international organisations and civil society partners determined to reignite the fight to end malaria for good.

Theresa May MP, Prime Minister of the United Kingdom, co-hosts of the Malaria Summit said: "The UK is a proud leader in the fight against malaria, which has seen deaths cut by 60% and saved 7 million lives since 2000. We have made a major contribution to that progress, including investing £500m each year over the next three years, developing new drugs and technologies and making life-saving solutions available to millions at risk from malaria.

"But the job is not yet done. Today there are millions still at risk, economies held back and a child's life needlessly taken every 2 minutes from this disease. This is why I am championing a new Commonwealth commitment to halve malaria across member countries by 2023.

"The UK, working in partnership across the Commonwealth and beyond, is committing to sustaining its leadership and investment in tackling malaria. We will support and incentivise others to invest in what is needed, from cutting edge research to ensuring access to malaria treatment and prevention for those most at risk."

Bill Gates, Co-chair of the Bill & Melinda Gates Foundation who are co-convening the Malaria Summit, said: "History has shown that with malaria there is no standing still – we move forward or risk resurgence. The commitments made today, from the UK, country leadership and the private sector, show that the world is ready to beat malaria. It's a disease that is preventable, treatable and ultimately beatable, but progress against malaria is not inevitable. We hope today marks a turning point against the disease, and that the Commonwealth takes a leading role in saving lives and ending malaria for good."

Dr Winnie Mpanju-Shumbusho, Board Chair, RBM Partnership to End Malaria, comments: "People living in Commonwealth countries are on the frontlines of the fight against malaria, a disease that sucks the lifeblood out of communities and economies, particularly in sub-Saharan Africa. Strong leadership and investment within malaria affected countries is fundamental.

A commitment by leaders to halve malaria in the Commonwealth would help drive dramatic progress in the next five years, putting the world back on track to end malaria for good. We hope today's Malaria Summit will mark the start of this new movement and pave the way towards ending history's oldest and deadliest killer and save millions from this preventable disease."

James Whiting, Executive Director of Malaria No More UK who are the Summit organisers, said: "It's exciting to see the UK and the Commonwealth stepping up. It's now time for the rest of the world to do the same. The coming together of governments, the private sector, philanthropists and NGOs demonstrates the determination to beat malaria."

Seventy days before CHOGM, David Beckham launched a public facing global campaign – "Malaria Must Die, So Millions Will Live" – backed by a wide coalition of organisations and celebrities, to help build a public mandate for renewed global and collective Commonwealth action to prioritise the fight against malaria, or risk undoing decades of unprecedented progress.

Running in parallel with CHOGM 2018 and the Malaria Summit, the 7th Multilateral Initiative on Malaria (MIM) Pan African Malaria Conference will also be taking place this week in Dakar, Senegal. Thousands of scientists from more than 70 countries around the globe will gather to share the latest research in the fight against malaria and discuss best practices moving forward to end the epidemic for good.