Over a billion people are currently contending with deadly temperatures as the relentless heatwave in Pakistan and India continues to climb, with spring-time temperatures already 5-8 degrees celsius above normal.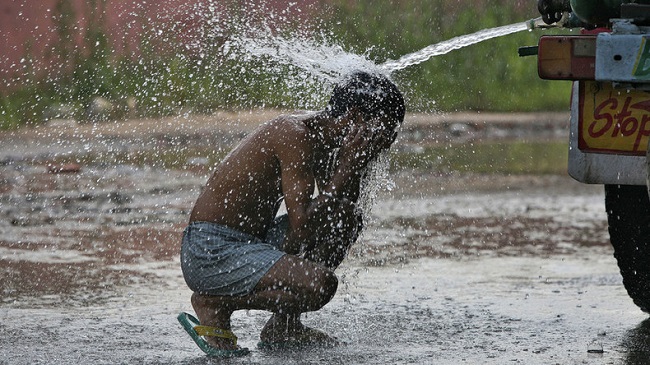 Temperatures have reportedly broken 122-year-old record highs, with no alleviation on the horizon.
People in South Asia, who have contributed the least to worldwide fossil fuel emissions, are on the frontlines of the climate crisis, experiencing its worst impacts, according to some campaigners.
Namrata Chowdhary, Chief of Public Engagement at 350.org, says: "The truth behind these heatwaves is searingly clear: fossil fuels did this. While these temperatures are quite literally shocking, they come as no real surprise to communities that have long since lived on the frontlines of the climate crisis. This is the latest spike in a rapidly worsening disaster, one that was foretold by climate activists the world over.
"The IPCC report had already predicted that this densely populated region, where the vulnerabilities of over a billion people are compounded by power outages and lack of access to water, will be one of the worst affected by climate impacts.
"The science is equally clear: unless we ditch fossil fuels immediately in favour of a just, renewable energy-based system, heatwaves like this one will continue to become more intense and more frequent. Access to energy is such a critical factor for coping with deadly temperature changes, with cooling as critical for families braving the South Asian summer as heating is to those in the freezing European winter. Considering the cost advantages of renewables put together with the social justice arguments, the case for urgent investment in decentralised renewable energy solutions has never been more compelling."
Shibaya Raha, 350.org South Asia Senior Digital Organiser, says: "We cannot deny this climate crisis any longer. We are experiencing heat waves in spring. The heat is unbearable, and people are suffering. Many in heavily populated areas do not have access to air conditioning, and workers with outdoor jobs are unable to carry out their work in this extreme heat, impacting sources of income.
"The IPCC report predicts significant increases in heat waves globally, but we are the human faces of that science. It looks daunting on paper but is even more devastating in reality and we demand immediate climate action. Governments can no longer approve fossil fuel projects, and financial institutions can no longer fund them, without our suffering on their hands."
According to 350.org, South Asia is on the frontlines of the climate crisis and will experience devastatingly high temperatures if leaders do not take urgent action to lower carbon emissions.
"The recent IPCC climate impacts report predicts frequent temperature extremes and heatwaves in Asia, especially in densely populated South Asian cities, where working conditions will be exacerbated and day-time outdoor work becomes dangerous.
"Much of South Asia could become uninhabitable if temperature trends continue, potentially leading to a large-scale humanitarian crisis. South Asian climate activists continue to call for real climate leadership, an end to fossil fuel extraction and a swift redirection of funds away from fossil fuels and into just and sustainable energy solutions," states the group.