Nature Uchenna Obiakor, Coordinator, YouthWASH Africa, in this piece to celebrate the 2017 Global Handwashing Day (GHD), writes that the theme for this year's event is conceptualised to emphasise how handwashing protects health, and offers mankind the opportunity to build a sustainable future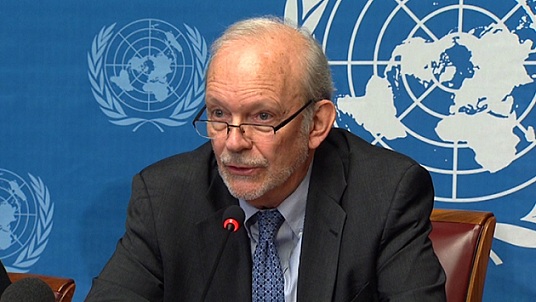 "Our Hands, Our Future" is the theme for the 2017 Global Handwashing Day (GHD) which is celebrated on October 15 every year since 2008 when it was adopted by the United Nations General Assembly. It is a day set aside to promote a global culture of handwashing with soap and raise awareness on the benefits of the practice.
The theme for this year's event is conceptualised to emphasise how handwashing protects our health, and offers us the opportunity to build a sustainable future. Handwashing with soap before eating and after using the toilet has severally proven to be the best preventive approach to healthy living. It is considered as the most cost effective way to mitigate diseases such as cholera, pneumonia, diarrhea, typhoid fever and can save more lives than any single vaccine or medical intervention. Good handwashing practice also plays a pivotal role in implementing the Sustainable Development Goals (SDGs) by contributing to improve well-being and reduce poverty.
According to UNICEF/WHO, almost a third (29%) of hospitals and clinics in Nigeria do not have access to clean water and the same percentage does not have safe toilets. The report also shows that one in six (16%) health care facilities do not have anywhere to wash hands with soap.
A separate study conducted by "WASHWatch" observed that over 60, 000 children below the age of five in Nigeria die from diarrhea diseases caused by the country's poor levels of access to WASH facilities.
The global status of another document released by WHO in 2015 reported that 15% of patients develop one or more infectious in hospitals. Also, UNICEF in 2010 highlighted that 272 million school days are missed due to diarrhea infection each year.
We must ensure that our children have access to handwashing facilities at school and at home, and teach them good handwashing habits to keep them on track for a healthy future. But, these benefits can only be achieved if handwashing is constantly practiced.
UNICEF is funding the National Task Group on Sanitation to engage YouthWASH in strengthening the capacity of NYSC members to activate and sustain EHCs in schools. In line with this goal, 60 NYSC members, 20 volunteers, 60 Hygiene Education Teachers, and 30 Community Health Education Workers have been trained on hygiene promotion in the six area councils under the FCT.
A symbolic handwashing event is expected to be performed by school children during assembly time in 100 schools across the six area councils. These activities are geared towards taking the campaign beyond the commemoration day and help strengthen the introduction of WASH Friendly School Project as part of our sustainability mechanism to foster hygiene practices in our communities and world at large. The NYSC members are expected to adopt and carry out weekly hygiene and sanitation activities in these schools with the objective of ensuring that these schools take ownership of the process to foster WASH education as well as strengthen school-community relationship.
We have approached the Sustainable Development Goals (SDGs) office to launch the Adopt a School Project. This initiative is targeted at stakeholders particularly the private sector and donor agencies to help provide WASH facilities as their Cooperate Social Responsibility (CSR) in these schools.
Furthermore, we have received approval to partner with the FCT Area Councils Services Secretariat (ACSS) on grass root mobilization and support for effective citizens engagement. We are also working with the FCT Universal Basic Education Board to ensure the successful implementation of the EHCs in the six area councils across the nation's capital.
Access to water and hygiene is a right issue, not a privilege or charity as largely perceived especially among the political class that sees it as a campaign tool. There is urgent need to strengthen local government institutions at all levels, as well as harmonise the activities of the different coordinating bodies for maximum productivity.
Promoting handwashing practices doesn't just mean making sure people have access to hygiene facilities; they must also be utilised because the benefits of handwashing depend on people washing their hands consistently at critical times. Choosing hand washing is choosing health which is important to our future. Good hygiene practices must be a habit which requires choosing to perform them not only on Global Handwashing Day, but on regular basis every day.