Youth-led organisation, Fridays for Future, on Friday, March 3, 2023, mobilised activists and communities across the globe to participate in climate strikes calling for an end to the flow of finance to oil, coal and gas projects the world over.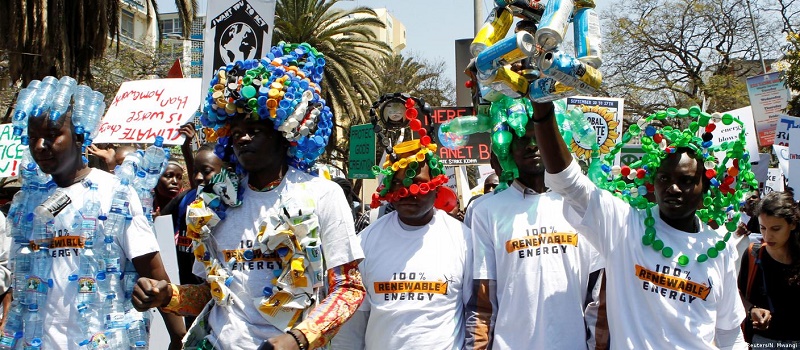 In support of this, African groups held events in parts of the continent, emphasising the need to scale up investment in community centred renewable energy and cut off financing to polluting fossils.
As the continent endures the devastation of worsening climate change, activists and communities on the frontlines of the climate crisis are calling on governments to leverage the continent's vast renewable energy potential and prioritise a just energy transition in Africa.
They are also calling on financial institutions supporting the development of huge fossil fuel infrastructure on the continent such as the East African Crude Oil Pipeline, to stop fuelling the climate crisis and favour a sustainable energy future driven by renewables.
Events in Benin, Cameroon and Kenya featured of art exhibitions highlighting the role of renewable energy as one of the key solutions to the climate crisis, public dialogue on fossil fuels and the screening of a documentary on the planned East African Crude Oil Pipeline.
Landry Ninteretse, Regional Director, 350Africa.org, said: "The role of financial systems in the climate crisis is undeniable, as they continue to channel huge amounts to the fossil fuel industry, which is destroying our planet as it profits from coal, oil and gas exploration. We are calling on financial institutions involved in fossil projects on the continent, such as the East African Crude Oil Pipeline to rule out support for such projects.
"In addition, African nations must recognise that phasing out obsolete and harmful fossil fuels and leveraging the renewable energy potential at our disposal is key to keeping catastrophic impacts of the climate crisis at bay. The just transition powered by clean and decentralised renewables is urgent for Africa as the region most affected and vulnerable to the climate crisis. We cannot afford to gamble with the future of our planet and humanity by allowing or supporting the continued expansion of fossil fuels."
Seko Anas, climate activist based in Benin, said: "Most African nations are blessed with abundant renewable energy to power clean energy growth and prosperity that serve the needs of people and economies. Some have already put forward energy transition plans, signaling commitment to move away from polluting fossil fuels and charting a path to a sustainable and secure energy future with the associated social and economic advantages. To achieve this, the continent also requires the support of the developed nations to realise a just transition."
Kaluki Paul Mutuku, from Kenya Environmental Action Network, said: "We are joining the calls to end fossil finance to halt projects such as EACOP, due to the negative socio-economic and environmental impacts associated with it. We urge the financial institutions that are yet to rule out support for the project to do so. The harmful practice of fossil fuel exploration and production that is devastating communities should not have a place in the future of our continent, or the world. As climate impacts are projected to worsen, there's an urgent need to inject financing into renewable energy to support a just transition in Africa."