For the third year running, Ghanaians are turning up in public and private spaces for a mass tree planting exercise in a day for a greener future.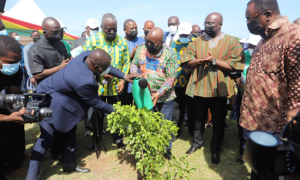 Schools, churches, private and public corporate institutions and individuals are joining in the national drive to plant 10 million trees in a day under the Green Ghana initiative.
Without climate action, the urgent quest to salvage nature from its emergency mode will be a herculean task. Planting trees is an important exercise as it has become critical to keep global warming below 1.5°C this century.
When Ghanaians planted 7 million trees in the maiden exercise in 2011, the government described the move as "an aggressive national afforestation and reforestation programme to restore the lost forest cover of Ghana and to contribute to the global effort to mitigate climate change".
In the following year, the country exceeded its target by planting 24 million trees.
According to the Forestry Commission, the over 30 million trees planted in reserve and off-reserve spaces on Green Ghana Day have 23 million of them surviving.  This represents 81% and 72% of the trees' survival rate in 2021 and 2022 respectively.
Ultimately, the initiative is to encourage young people to inculcate the values of planting and nurturing trees while mobilising national action for the restoration of degraded landscapes.
As a climate mitigation activity, the Green Ghana initiative enhances livelihoods for rural communities through their engagement in the production of tree seedlings, and helps in beautifying communities and the environment.
The theme for 2023 is "Our Forests, Our Health", highlighting the importance of green environments in the promotion of good health and sustainability of lives.
According to the Ministry of Lands and Natural Resources and the Forestry Commission, two strategies are devised to encourage Ghanaians to plant trees.
The first strategy is to plant in degraded forest reserve compartments across the country.
The second strategy is to plant outside forest reserves; within farms, along watershed areas, in road medians, compounds of homes, schools, churches, offices, and within recreational spaces.
The dilemma of mining in forest reserves
Ghana lost over 160,000 hectares of forest from 2010 to 2015, according to Global Forest Watch. The percentage of forest lost within this period exceeds the quantum of trees cultivated from 1963 to 2016 in the country's forest zones.
Restoring the lost forest cover will help to fight climate change, but Ghana must first save its forest reserves from the devastating impact of illegal and irresponsible mining.
Illegal mining activities have in the past decade reached a crescendo that have ravaged lands, forests and water bodies.
The gains of the Green Ghana Day, observed on Friday, June 9, will therefore be insignificant without a targeted and committed approach to halting mining in forest reserves.
It is expected that the government's drive to aggressively restore degraded lands and depleted forest reserves will be reciprocated with a similar drive to rid the Ghanaian forests of irresponsible and illegal mining activities.
By Kofi Adu Domfeh