To heighten awareness about biotechnology among key stakeholders, the National Biosafety Authority (NBA), under the auspices of the Ghana Chapter of the Open Forum on Agriculture Biotechnology (OFAB), and the African Agriculture Technology Foundation (AATF) in Kenya, sensitised a cross section of Members of Parliament (MPs).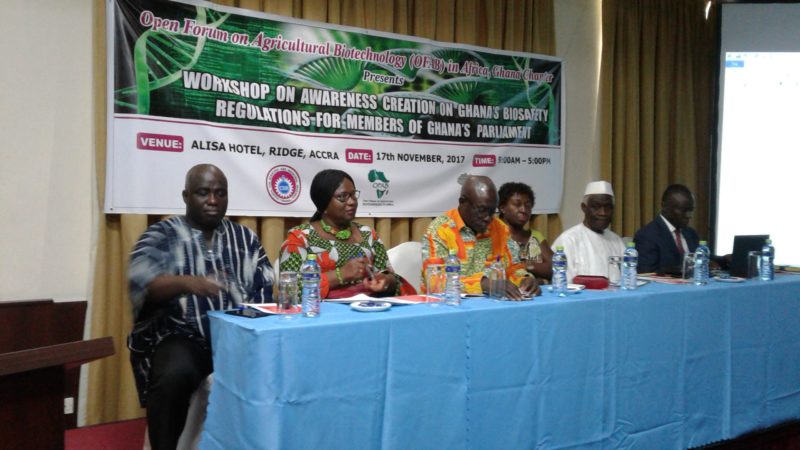 It was the last in the lineup of activities for the last quarter of 2017 and served as an occasion for the members of the Parliamentary Select Committee on Agriculture and Cocoa Affairs, and that of Environment and Natural Resources, to learn more about and discuss biotechnology and biosafety issues in the context of the draft Regulations for the implementation of Ghana's Biosafety Law. Senior officials of the Ministry of Environment, Science, Technology and Innovation, and Ministry of Health participated in the event.
A team of scientific experts led the discourse that exposed the MPs to on-going scientific technological advancement around the world, the process in modifying genetic organisms, the socio-economic and policy issues on biotechnology and genetically modified organisms (GMOs), biosafety regulations in Ghana, and the global statues of biotechnology and international trade in biotechnology products.
The Director-General of the Council for Scientific and Industrial Research (CSIR), Prof. Victor Agyeman, reminded the MPs of the crucial role science plays in fostering socio-economic development for human survival. "There are instances, when for the survival of man, we need to take drastic measures including biotechnology," he said.
Prof. Agyeman queried the huge food import into the country, which amounted to $1.9 billion in 2016, according to national statistics, and said the amount could be reduced and re-channeled into other equally pressing areas, through the application of biotechnology in the agricultural sector.
The increasing food imports can be blamed in part on decreasing agricultural production as a result of reducing arable lands for agriculture due to competitive land uses, unsustainable farming practices, rapid population growth, urbanisation and climate change impacts among others things.
The CSIR Director-General said countries are increasingly adopting cutting edge scientific innovations to address challenges including threats to food security, and cited the remarkable progress Japan is making in that direction. A scientific innovation in that country, has made it possible to cultivate fruits and vegetables on practically any flat surface without soil.
The basic resource in this pioneering farming method is polymer film, made of hydrogel, which is a super absorbent material mainly used in household products such as disposable diapers. The film works by soaking up water and nutrients through multitudes of nano-sized pores. Cultivated crops grow on top of the film, "… with the roots spreading across the surface of the membrane in wispy, fan-like formations," according to an article by Melinda Joe published in the South China Morning Post.
Prof. Agyeman stated: "If we don't do anything about the current situation in this country, and allow people's fears and uncertainties about biotechnology to stop us from adopting it, we will lose our foods and soils, and ground water will be reduced."
He added, "Science is the way to go and biotechnology is one vital new science that we need."
The MPs were then taken through a tutorial session by Dr. Vivian Oduro of the Biotechnology Nuclear Agricultural Research Institute (BNARI), Ghana Atomic Energy Commission (GAEC). She touched on several related topics including the various processes that humans have being using over the years to develop better agricultural crops and animals such as selection, conventional breeding, hybrids, tissue culture, cloning, in vitro fertilisation, chemical and physical as well as genetic engineering and modification (GE/GM).
Dr. Oduro described the GM crop as "a crop in which one or more novel gene has been introduced into its genome such that it is able to pass on its new genome to its offspring." She explained that this process makes GM crops have better yields, mature early, are diseases and drought resistant and of higher nutritional values.
Dr. Oduro, said that in Ghana stable crops diseases like the cassava mosaic, cassava brown streak virus and the black sigatoka disease in plantains that affect crop nutrition and reduce yields, can be addressed by biotechnology to increase productivity, enhance food and nutritional security, ensure higher economic benefits and safeguard the environment.
For his part, the Director of Science Technology and Economic Policy Research Institute (STEPRI) of CSIR, Dr. George Owusu Essegbey, said biotechnology could be exploited for socio-economic development and therefore urged the country to adopt this science.
"We must harness biotechnology to achieve national objectives for wealth creation, poverty reduction, enterprise competitiveness, sustainable environmental management and industrial growth," he said.
A Senior Advisor to the Ghana Program for Biosafety Systems (PBS), Prof. Walter Alhassan, noted that global cultivation of biotechnology is on the increase with soya beans, maize and cotton as the leading crops, with corresponding increasing trade.
Citing statistics from the International Service for the Acquisition of Agri-biotech Applications (ISAAA), he said global increased revenues from planting biotech maize stood at $50 billion between 1996-2015. South Africa was the only African country that benefitted from this increased revenue, realizing an estimated $1.8 billion.
Prof. Alhassan said the rest of Africa missed this opportunity and the opportunity cost has been that "300 million Africans who depend on maize as a staple were denied the choice to adopt biotech crops."
The Executive Secretary of the National Biosafety Authority (NBA), Eric Okoree, briefed the MPs on the regulatory framework governing biosafety in Ghana, saying, the Biosafety Act, 2011 Act 831, provides the needed legal backing.
The objective of Act 831 is "to ensure an adequate level of protection in the field of safe development transfer, handling and use of genetically modified organisms from biotechnology that may have adverse effect on health and environment." Additionally, it seeks "to establish a transparent and predictable progress to review and make decision on genetically modified organisms and related matters."
A retired Supreme Court Judge and now lecturer at Montcrest University, Justice VCRAC Crabbe, said with the Act now in place, it will be good for the country to build her capacity to develop her own seeds. "If we are able to develop seeds of rice that can grow with little water, then this country does not have to import rice," he added.
Of the $1.9 billion food imports into Ghana last year, rice alone accounted for $1.1 billion of the amount.
Justice Crabbe urged well to do Ghanaians to get involved in the required scientific research rather than looking up to government to be solely responsible. He further urged research institutions to make research results available to the public.
Following the formal presentations, there was mixed reactions from the MPs. On one hand, their comments indicated an appreciation of biotechnology's potential to facilitate socio-economic development particularly in enhancing food security and improving the lot of the farmer; while on the other hand, there were hints of suspicion and uncertainties about the health and social impacts of the technology.
Still, others displayed a deep sense of curiosity to further probe the controversies surrounding biotechnology.
MP for Klotey Korley, Dr. Zenator Agyeman Rawlings, wondered about several issues. She demanded: "Does the use of GMO seeds limit farmers' choices to re-use the off-spring or yields? Is the substance used to enhance resistance of cotton to pest toxic to all insects or some? Does research address concerns of the public? And why does the Biosafety Act appear to be silent on labeling, which is vital to make people aware of the nature of a product?"
The MP for Oforikrom, Dr. Emmanuel Marfo, said, "This workshop has been a useful capacity building process that has enhanced our understanding of biotechnology and equipped us with the needed information to work on related legislature."
MP for Shia OsuDoku, Mrs. Linda Obenewaa Ocloo, said, "My initial apprehension of GMOs has now been replaced with an appreciable understanding of biotechnology following the sensitisation."
MP for Manso Adubia, Yaw Addo Frimpong, stated: "I'm a good friend of GM, because I believe science is ruling the world and I don't want our farmers to be left behind … I think there is need for an advocacy group to champion the cause of GMOs in Ghana."
Generally, the MPs were happy with the interactions and called for more of such activities to enhance their understanding of biotechnology and biosafety issues.
By Ama Kudom-Agyemang, Accra