A cross section of media practitioners from the Greater Accra, Central, Western, Ashanti, Eastern and Volta regions who recently met in Accra to deliberate on ways of ending open defecation in Ghana, have proposed mounting a media campaign against open defecation.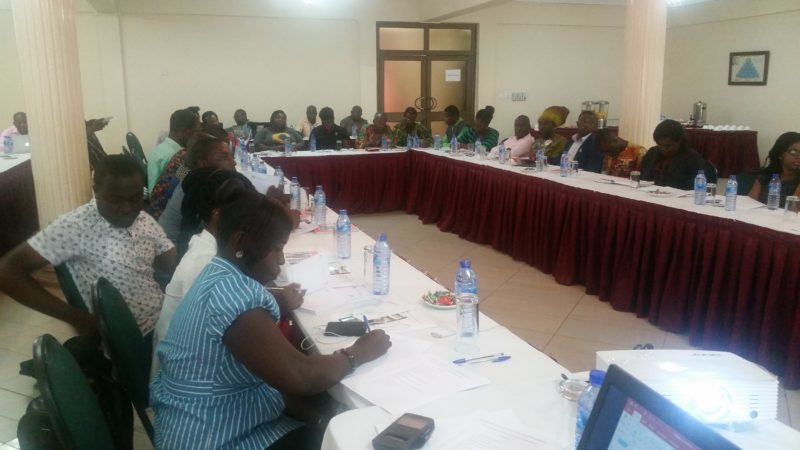 This will involve several components such as devoting time and space in  all the various media channels to issues; producing and airing short clips on open defecation; staging seasonal reality shows in local communities; naming and shaming culprits; establishing WASH Desks in media houses; and instituting an award scheme.
The media practitioners included Managers of Radio Stations, regional and zonal managers, news managers and editors, assignment editors, producers, hosts and reporters. They had gathered for the Media Summit on the theme: "The Media and the Open Defecation Free Ghana Agenda." It was jointly organised by World Vision International (WVI) Ghana in collaboration with Kings Hall Media, as part of its strategic dialogues with key stakeholders, aimed at fostering innovations that will significantly reduce open defecation and promote access to improved sanitation.
The media practitioners called on WVI Ghana and other relevant organisations and corporate bodies to partner the media to implement the proposals through collaborative activities. They stressed that strategic partnership was crucial for the media to play its expected role in ending open defecation, and improving sanitation and hygiene.
The Operations Director of WVI Ghana, Sagane Thiaw, who addressed the opening session of the summit, highlighted the importance of ending open defecation and addressing issues of poor sanitation and hygiene. "These have negative implications for child health and well-being such as stunted growth that hampers intellectual development in children," he said.
Mr. Thiaw said that, to address these dangers, the global community has initiated measures including instituting special Days such as World Toilet Day on November 19, Global Handwashing Day on October 15 and Menstrual Hygiene Management Day on May 28. These Days are celebrated annually to raise aware awareness on the need to address related issues that impact on the health, well-being and general development of people.
He explained that his own organisation's response to the issues of poor sanitation and hygiene, was a 'vision of life in all its fullness for every child." And in pursuance of this vision, WVI has launched an "Operation 2020 Agenda," aimed at ending open defecation in all of the organisation's operational areas across the country by 2020. Additionally, WVI has since 2014 being implementing its, "Improved Sanitation Now" campaign, and has water and sanitation as its first strategic objective under its current five year Country Strategy from 2016 to 2021.
Mr. Thiaw further explained that in all of these programmes, 'the well-being of children – especially in the areas of health and education, is the main focus." And to ensure adequate coverage, WVI's spends $6.5 million annually on water and sanitation, while, 24 of its 26 Areas Programmes in Ghana are devoted to water, sanitation and hygiene.
He commended UNICEF, Global Communities, Plan Ghana, and PRONET among other organisations for their immense contribution to the fight against open defecation. He recognized that the media has the power to contribute positively towards ending open defecation and improving Ghana's sanitation situation.
Earlier, Mr. Thiaw introduced WVI as a non-profit organisation operating in accordance with Christian principles. "WVI is an international partnership of Christians operating in about 100 countries whose mission is to follow our Lord and savior Jesus Christ in working with the poor and oppressed to promote human transformation, seek justice and bear witness to the good news of the kingdom of God," he said.
The Executive Secretary of the Environmental Services Providers Association (ESPA), Ama Ofori Antwi, also acknowledged the strategic role that the media could play in improving the country's sanitary situation. "Media must refocus its lenses on capturing the poor and negative attitudes that have brought us to our knees as far as sanitation is concerned."
However, she pointed out that "while it is possible for media to help in shaping the hearts and minds of the people for an improved sanitation, they can also erode steady gains made in the sector with unguarded and factually inaccurate reportage…"
Therefore, Ms. Antwi, cautioned media practitioners to "always check and even re-check facts from multiple sources before running with stories."
UNICEF's WASH Specialist, Mrs. Lorretta Roberts, presented convincing reasons why open defecation must be stopped, saying, "Economically, the country is losing 79 million dollars annually because of open defecation; environmentally, it pollutes both surface and underground water sources;  health wise, it endangers the health of children in particular; whilst, the practice generally stigmatises and affects human dignity."
She stressed that everyone from the President to landlords and prospective tenants has a role to play in ending open defecation in Ghana. Mrs. Roberts mentioned that the President and his Ministers were currently working on a campaign, but added that "Government has the capacity to make it a flagship campaign and get all public agencies on board."
She specified roles that key stakeholders could play. "The Legislature and Judiciary can ensure that sanitation law enforcement works; traditional rulers and religious leaders can influence their constituencies to change; and business minded people can develop profitable business models around open defecation."
"Furthermore," Mrs. Roberts said, "Trade Unions can sensitise their members and seek their welfare by demanding clean and safe toilets at their workplaces; heads of institutions will ensure there is access to clean toilets for their staff; landlords will ensure there is a toilet for tenants; and Prospective Tenants will insist on availability of a toilet before renting a room/apartment."
The need to end open defecation and address issues of poor sanitation and hygiene has become more urgent in recent times, because of their implications for human health, environmental protection and socio-economic development.
Global facts on Water, Sanitation and Hygiene (WASH), compiled by USA based Centres for Disease Control and Prevention, say worldwide, 2,200 children under five years, die every day from diarrheal diseases.  Unsafe drinking water, inadequate availability of water for hygiene and lack of access to sanitation together contribute to about three quarters of the deaths from diarrheal diseases.
Besides, millions of people are infected with neglected tropical diseases (NTDs), many of which are water and or hygiene related, such as guinea worm, buruli ulcer, trachoma and schistosomiasis or bilhazia also known as snail fever. These diseases are most often found in places with unsafe drinking water, poor sanitation, and insufficient hygiene practice.
Hygiene practices are really very simple to do. Take for instance, the act of washing one's hands especially after using the toilet, this has been proved to be one of the most inexpensive and effective ways to prevent the spread of infections as well as reduce child mortality rates.
The fact is that we pick up germs with our hands from various points including when use the toilet, during playing or working, and also from objects such as doorknobs and stair railings as well as from handshakes. So when we forget to wash our hands, we can spread these germs to other people or give them to ourselves by touching our eyes, mouths, noses or cuts on our bodies.
Handwashing, when done with soap has been cited as one of the most cost-effective interventions to prevent diarrheal related deaths and infectious diseases.
Yet, the non-observance of this simple act of hygiene, in addition to lack of access to safe water, inadequate and poor sanitary facilities, plus the attendant practice of open defecation are posing health, socio-economic and environmental challenges to developing nations in particular, including Ghana.
By Ama Kudom-Agyemang, Accra