In the wake of the coronavirus outbreak, one thing has become clear – the need to prioritise water provision, particularly to rural communities, where populations are most vulnerable due few water facilities and unsafe water. Unless attended to, this will make the risk of spread in rural areas much higher than in urban areas.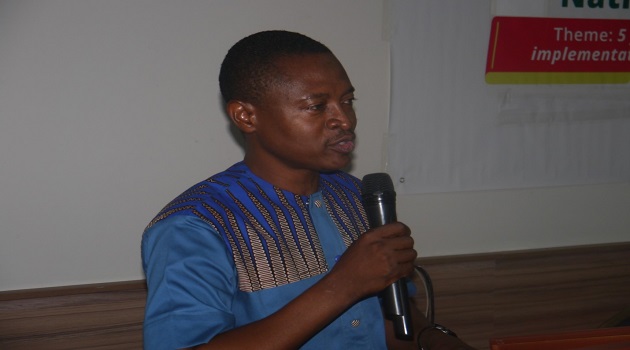 "So, this is the time, for the Ministries of Sanitation and Water Resources,  and Local Government and Rural Development as well as Municipal and District Assemblies, to step forward and compliment central government's efforts by taking responsibility for, and fixing the non-functional water facilities in deprived communities," says Mohammed Abdul-Nashiru, WaterAid Ghana's Country Director.
He added: "This must be done to protect our people."
In other words, fixing of non-functional water facilities especially in rural areas, should be treated as one of the priority measures in the nation's fight against COVID 19.
In an interview, Mr. Abdul-Nashiru explained that the need for such prioritisation arises, because, "with the regular washing of hands required in this coronavirus era, where people must wash their hands under running water, it becomes a challenge for rural communities, because few water facilities are working and so social distancing can be compromised due to overcrowding."
He said the situation is worrying especially in Districts like Bongo and Kasena Nankana West in the Upper East region, and Wa Munipal in the Upper West region, where most of the few water facilities are not functioning even in health facilities.
"The alarming thing is that in health facilities such as Community Based Health Planning and Services, also known as CHPS Compound, where they have no regular supply of water, frontline health workers will not be able to provide basic health services," observed Mr. Abdul-Nashiru.
CHPS Compound is a national strategy to bring essential health services close to communities in deprived sub-districts. Launched in Navrongo in 1994, most CHPS Compounds have assigned midwives who man the facilities, ensuring that community members have access to essential basic health services including delivery of babies.
Mr. Abdul-Nashiru is concerned because, all this while, some CHPS Compounds do not have regular water supply and "in this coronavirus era, these health centres risk becoming an avenue for infecting frontline workers, users and even newborn babies."
He acknowledged the overwhelmingness of the situation, saying that "central government must not be left handle it alone," and called for a collaborative partnership that will ensure the entire country is covered.
"This can work by pooling our different expertise for a comprehensive approach including targeted advocacy aimed at stakeholder such as institutions," Nash explained, adding: "This will ensure that grants and resources such as Personal Protective Equipment (PPEs) go down where they are most needed."
Atta Arhin of World Vision Ghana urged families and households in water deprived communities to, in the interim, adopt and prioritise simple water treatment methods such as boiling and straining. 'This," he said, "is crucial because sanitizers will be useless without clean water."
Mr. Arhin, who is also the Vice Chairman of the Coalition of NGOS in Water and Sanitation (CONIWAS), called for intensified community education on water, sanitation, and hygiene (WASH) methods. He proposed that the Ministry of Sanitation and Water Resources and the Community Water and Sanitation Agency (CWSA) should utilise sensitisation methods including door-to-door, saying, "Though this can be tasking, it can be very effective in educating rural populations."
The proposals of these two water and sanitation specialists are in line with the Global Water Partnership West Africa (GWP-WA) recommendation that administrative authorities should take advantage of COVID-19 to strengthen WASH measures.
In a press statement, GWP-WA said: "Central and local governments as well as all decision makers to seize the management context of Covid-19 to strengthen measures in the field of hygiene and basic sanitation, and make it a priority on their agenda."
The statement, signed by GWP-WA's Chairman, Prof. Amadou Hama Maiga, urged communities and individuals in West Africa "to adopt from now as habits, the hygiene practices acquired in the fight against Covid-19, such as hand washing with water and soap."
It said the daily information provided by the World Health Organisation (WHO) and the measures enacted to reduce or even stop the spread of the new coronavirus are essential and must be followed by all.
The statement further called on West African states to increase investment in water security, access to safe drinking water, hygiene and sanitation, and integrated and sustainable management of water resources. It said such investments are necessary "in order to strengthen the resilience of the economies and populations of countries to major internal and external shocks."
GWP-WA noted that even though access to safe drinking water is a human right and a central element of hygienic measures advocated to combat Covid-19, "unfortunately, this right is still not guaranteed for nearly half of the 430 million people living in West African States."
It conveyed the solidarity of GWP-WA with all West African states in their fight against the coronavirus: "In these difficult times that our countries and communities are going through, Global Water Partnership West Africa expresses its solidarity with all populations and its support for all local, national and international initiatives aimed at limiting the spread of Covid-19 and its effects in West Africa."
The statement said "the GWP-WA welcomes the release by West African governments of significant financial resources to fund the fight against the pandemic, particularly to alleviate the burden of lockdown measures on the most vulnerable groups."
It also said "the GWP-WA welcomes the announced commitment of partners to support African states in the fight against the pandemic," and added, "GWP-WA hopes that the choices that will be made for both emergency and post-Covid-19 interventions will better integrate water among the priorities."
By Ama Kudom-Agyemang