Ghana is championing the transformation of the Climate Vulnerable Forum and the Vulnerable 20 Group (V20) of Finance Ministers into a permanent Inter-Governmental Organisation.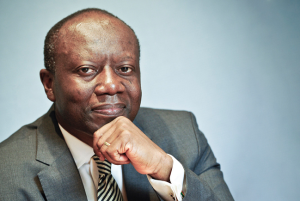 The principal aim is to push for "a 'Fair Share' Agenda to ensure appropriate financing for 29 adaptation, mitigation, and loss and damage; whilst leveraging our natural resources to raise carbon financing for accelerated climate action and to ensure that the 1.5-degree Celsius temperature threshold is not breached," says Finance Minister, Ken Ofori-Atta, when he addressed Parliament on the 2023 Mid-Year Budget Review.
Ghana's President currently chairs the Climate Vulnerable Forum while the finance minister chairs the V20 Group – an organisation of 58 countries with a population of 1.5 billion people in the most affected climate regions of the world.
According to Mr. Ofori-Atta, Ghana has already developed a framework for the V20 Climate Prosperity Plan to attract climate investments from the private sector.
The World Bank estimates that climate change could cost Ghana approximately 1.7 percent of GDP annually by 2030 if left unaddressed.
To drive foreign direct green investment to benefit local businesses, the government is working to secure carbon financing to support its Nationally Determined Contributions (NDCs) and meet its commitments under the Paris Agreement.
"As part of our efforts to address loss and damage from climate change, Ghana, as one of the first pathfinder countries, launched the in-country process for Ghana's participation in the Global Shield against Climate Risk and the Global Risk Modelling Alliance.
"These initiatives will enable us to assess quantitatively our climate risk, design solutions informed by the data and facilitate access to resources from the Global Shield," noted Mr. Ofori-Atta.
The government, in partnership with the Green Climate Fund, has established the Ghana Shea Landscape Emission Reduction Project (GSLERP) at an estimated cost of US$54.5 million.
The Project will focus on the Shea Landscape and will address the country's efforts to reduce emissions from deforestation and forest degradation (REDD+).
"Additionally, government is implementing the Ghana Cocoa Forest REDD+ Programme (GCFRP), which covers 5.9 million ha – 79% off-reserve, 21% on reserve – in seven regions. The programme will benefit 12 million urban and rural residents," said Ken Ofori-Atta.
Ghana became the second African country after Mozambique to receive FCPF REDD+ payments in January 2023.
By Kofi Adu Domfeh