Germany and India are intensifying their cooperation on forest conservation. This makes an important contribution to achieving the Sustainable Development Goals (SDGs) and implementing the Paris Climate Agreement.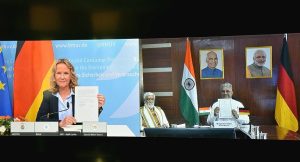 German Environment Minister Steffi Lemke and her Indian counterpart Bhupender Yadav signed a joint Declaration of Intent to this end on the occasion of the 6th German-Indian governmental consultations this week. Germany will support India's forest landscape restoration efforts via its International Climate Initiative (IKI).
German Environment Minister Steffi Lemke stated: "Extreme heat waves, such as the one currently affecting India, forest fires and pandemics show us clearly how vulnerable our planet is and how much we depend on healthy ecosystems and effective climate change mitigation. In the current Decade on Ecosystem Restoration from 2021 to 2030, we want to stop the ongoing degradation of forests and ecosystems and restore the balance between humans and nature.
"The climate crisis and loss of biodiversity must be addressed jointly. Rigorous forest conservation has double benefits – it helps the climate and preserves biodiversity. The new IKI-funded project on forest landscape restoration in India will help regulate the water cycle. It will promote additional sources of income and jobs in rural areas and bring cool and fresh air to cities."
India and Germany have been cooperating closely on climate issues and the Sustainable Development Goals (SDGs) for many years now. The ministries' joint declaration of intent on forest landscape restoration lays the foundation for intensifying cooperation. Forest landscape restoration is a dynamic process aiming to restore ecological functionality, safeguard land productivity, protect biodiversity and contribute to climate change mitigation.
The project plans to restore the multitude of ecosystem services in already degraded forests in India so that these forests become more resilient to the climate crisis. The reforested unused land will simultaneously function as a carbon sink.
Under the "Bonn Challenge", India has committed itself to restore 26 million hectares of forest landscape by the year 2030. Germany wants to support India in achieving this goal. India faces enormous challenges in the fight against the climate crisis and biodiversity loss, given the sheer size of the country and the diversity of its natural resources. It wants to raise its forest cover from 21 to 33 percent. The country has the potential to restore 140 million hectares of forest landscape. The livelihoods of 300 million Indians also depend on forests.
The intergovernmental consultations, led by Federal Chancellor Scholz and Prime Minister Modi, are an important forum for making joint progress with India on achieving the Paris climate targets and the SDGs.