The German city of Essen has won the European Green Capital Award for 2017. The "Green Capital" is a title awarded by the European Commission, for the city's success in transitioning from a heavily polluting mining centre to a clean and green economy.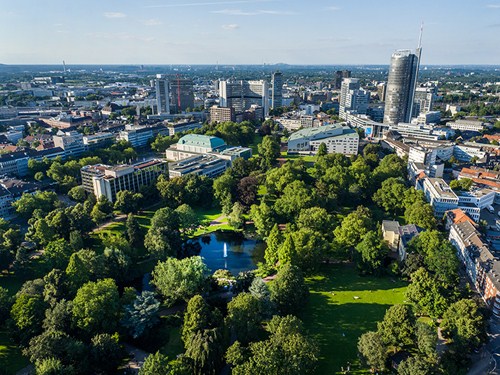 The award helps to highlight the crucial importance of city climate action in the run-up to the UN Climate Change Conference in Bonn in November (COP23), hosted by the the UN and presided over by Fiji, with the support of the German government.
Both Essen and Bonn are located in North Rhine-Westphalia, Germany's most populous state.
Commenting on the award, the Lord Mayor of Essen, Thomas Kufen, said: "This is powerful recognition that Essen and North Rhine-Westphalia are a hub for environmental and climate protection. We hope that both the UN Climate Change Conference and our role as Europe's Green Capital can send positive impulses for change across Europe and the world."
The award was presented by Karmenu Vella, EU Commissioner for Environment, Maritime Affairs and Fisheries, at a ceremony in Bristol, UK, which currently holds the title. Essen was singled out for its exemplary practices in protecting and enhancing nature and biodiversity and efforts to reduce water consumption. Essen participates in a variety of networks and initiatives to reduce greenhouse gas emissions and to improve the city's resilience in the face of climate change.
Commissioner Vella said: "It gives me great pleasure to present Essen with the European Green Capital Award for 2017. Essen has used the lessons from its industrial past to build an environmentally sound future. They have applied the principle of working with nature and reaped spectacular results. We have a great deal to learn from Essen's green infrastructure and indeed from its ambitious plans for the future. I look forward to the events that will mark its year as the 2017 European Green Capital."
The greening of cities is essential to achieve the key goal of the Paris Climate Change Agreement, which is to limit the global average temperature rise to as close as possible to 1.5 degrees Celsius. The role of cities is particularly important given that most of the world's energy is produced in urban areas, along with the most greenhouse gas emissions.
Successful Transition from Mining Industry to a Services-Based Economy
Essen used to be one of Germany's most important coal centres, and is the first mining city to win the title of European Green Capital.
In order to protect nature and biodiversity, Essen has built "green corridors" and is renaturalising the river Emscher. In the area known as the Krupp Belt, former site of the Krupp cast steel factory, a leisure area has been built, full of trees and criss-crossed with bicycle paths.
Essen began large-scale coal production in the early 19th century. The decline of the coal and steel industries in the region led to the closing of the last colliery in 1986. The city successfully restructured into a services and financial centre.
The city of Essen intends to reduce CO2 emissions by 40% by 2020 over 1990 levels. Emissions already dropped by 29.5% in 2011 in relation to 1990, exceeding the German national average reduction.
This happened through a combination of national, state and local measures, prompting a reduction in the use of fuels such as heating oil, lignite and black coal and by ramping up district heating and renewable energy deployment.
Since 2010, the city has been buying certified green electricity, and since 2012 it has been helping all relevant stakeholders go green via a dedicated municipal agency. The Essen Climate Agency offers advisory services and works as a hub for consumers, companies, associations and other entities. It is also responsible organising environmental projects and campaigns.
The European Green Capital award will be celebrated in Essen with over 300 activities throughout this year, including many activities involving local citizens.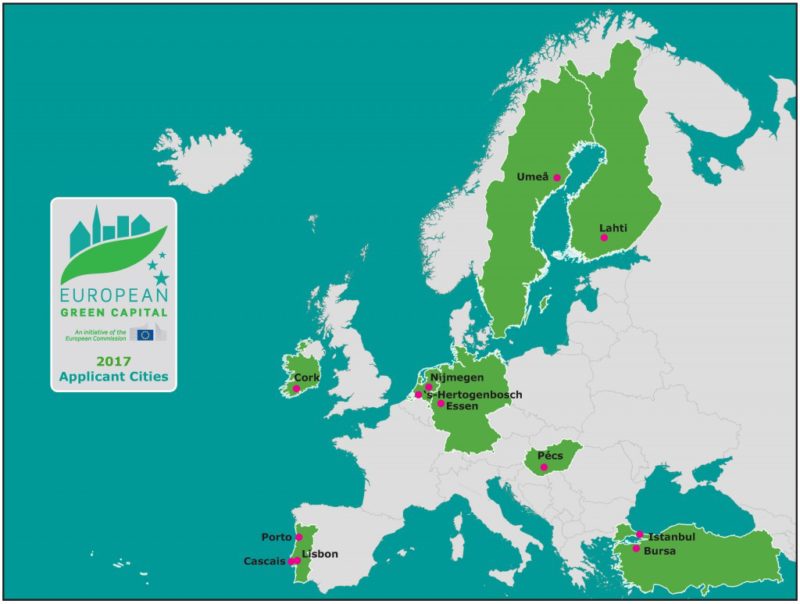 Essen, together with all the previous European Green Capital winners, will act as a role model for other cities aspiring to improve their environmental performance, encouraging them to develop and apply innovative solutions as they progress towards sustainability targets.
Essen (Germany), 's-Hertogenbosch (Netherlands), Nijmegen (Netherlands) and Umeå (Sweden)  were shortlisted from 12 entries across Europe. An international and independent panel of Experts assessed each applicant on the basis of the following indicators:
Climate change: mitigation and adaptation
Local transport
Green urban areas incorporating sustainable land use
Nature and biodiversity
Ambient air quality
Quality of the acoustic environment
Waste production and management
Water management
Waste water treatment
Eco-innovation and sustainable employment
Energy performance
Integrated environmental management
Bristol, the current European Green Capital, hosted the Jury deliberations on 17th June, where the four shortlisted cities presented their future goals, their citizens' communication activities, and their readiness to act as a role model.