A non-governmental organisation with United Nations Economic and Social Council (UN ECOSOC) consultative status, the Gender and Environmental Risk Reduction Initiative (GERI), has collaborated with the Global Environment Facility (GEF) Small Grants Programme (GEF-SGP) and United Nations Development Programme (UNDP) to tackle the negative impacts of climate change and land degradation risks on livelihood activities in Usar, a rural community in Benue State of Nigeria.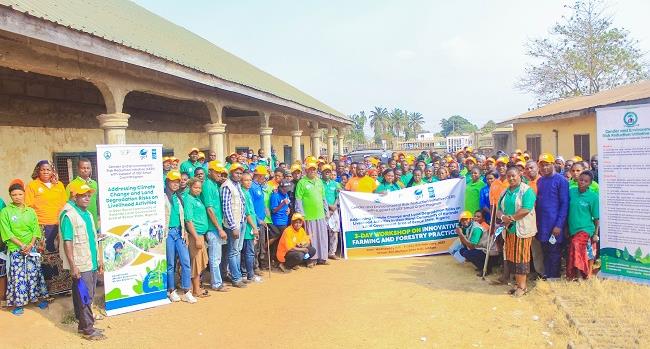 The intervention was part of GEF-SGP and UNDP funded project titled: "Addressing land degradation risks on livelihood activities in Usar rural community of Kwande local government area of Benue State, Nigeria".
The project was aimed at: improving knowledge and capacity of local farmers to reduce risks associated with rainfall variability, unsustainable land use and their impact on community livelihoods and food security; contributing to cut CO2 emissions and loss of natural vegetation due to fuel wood extraction in the community by the production and adoption of fuel wood efficiency stove; and, providing alternative income generating activities to community dwellers to diversify their economic livelihood activities as means of addressing vulnerability to climate change.
The project was implemented by GERI from November 2021 to October 2022.
The initiative's activities included a three-day training of 200 persons including 120 women and 80 men on sustainable and innovative farming and forestry practices, and distribution of 3,146 trees comprising improved palm seedlings for planting on 22 hectares of land in the community.
Additionally, over 250 farmers were trained in a three-day train-the-trainer workshop on production of compost manure. The beneficiaries were also engaged in the production of animal feeds and the production of over 20, 000 kilogrammes of compost manure, and the production of fuel wood efficiency stoves.
In addition, 120 women participated in the production of several thousand pieces of bar soap and litres of liquid multipurpose soap for use and selling as part of the project's activities.
Speaking at the flag-off of the project, GERI Executive Director, Elizabeth Jeiyol, gave an overview of the project and reaffirmed the commitment of the GEF-SGP and UNDP to collaborate with relevant stakeholders at community level to address impacts of climate change and land degradation towards improving of livelihoods of farmers in Usar rural community.
Jeiyol also called on the project beneficiaries to share lessons learned and encouraged them on the need to share knowledge gained through the training with other farmers within and beyond Usar district. .
Responding on behalf of the female beneficiaries, Mrs. Fanyan Benga, a woman leader, appreciated GEF-SGP, UNDP and GERI for enhancing their capacity to not only respond effectively to accompanying effects of land degradation on food insecurity and livelihoods, but also increasing their knowledge towards reducing the cutting down of trees and loss of natural vegetation due to fuel wood extraction and unsustainable farming practices.
In a similar reaction, another female beneficiary, Mrs. Ngusonun Ayila, stated that the training on compost manure production would ease the difficulty of accessing inorganic fertiliser due to high prices which has affected majority of female farmers, particularly widows and other vulnerable persons, including poor male farmers in this particular rural area.
She further expressed her excitement and that of other beneficiaries over capacity building and hands-on training on innovative and sustainable ways of farming practices with implications on improved soil quality and food production.
In his response, the district head of Usar, Chief Tivlumun Ako, thanked the funders and GERI and expressed hope that the project would empower people and ultimately improve livelihoods in the community and pledged that more land would be allotted to beneficiaries to plant the high variety palms.
Mr. Terhemba Numbe spoke on behalf of the beneficiaries and thanked the funders and GERI for the intervention in Usar community.