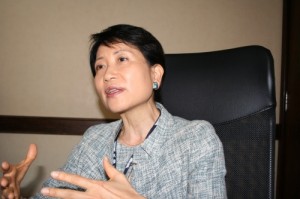 Countries participating in the 46th Council of the Global Environment Facility (GEF) held in Cancun, Mexico, launched the new GEF2020 strategy and approved a $230 million work programme that together with previous investments during 2010 -2014 will total $3.7 billion directed towards the protection of the global environment.
These and other decisions taken by the Council provide the foundation for the next four years of actions (GEF-6) by the GEF and its partners to work with countries to address urgent global environmental problems relating to climate change, biodiversity loss, desertification and land degradation, management of international waters, management of forests for multiple benefits, and protection against dangerous chemicals and wastes.
"I believe the GEF has been strengthening its work in many ways. Perhaps most importantly, we can point to a continued strong engagement in countries to address global environmental challenges of concern to us all. In the past four years, the GEF has funded almost 900 projects in more than 140 countries across all important environmental domains for a total amount of $3.7 billion," said Naoko Ishii, CEO and Chairperson of the GEF.
The GEF-6 replenishment concluded last month with a record sum of $4.43 billion pledged, representing a strong donor support and an expression of confidence in the GEF's work. "It built consensus around a package of program and policy recommendations that will help keep the GEF at the forefront on many global environmental issues. It will allow GEF to respond to its new responsibilities, strengthen our focus on the poorest countries, continue our momentum to engage with the private sector, and enhance our focus on gender and results," Ishii added.
Looking ahead, the GEF Council also welcomed the new GEF2020 strategy to guide GEF into the future. The strategy puts a focus on addressing the drivers of environmental degradation, using new instruments to engage the private sector, working to achieve impact at scale, and creating synergies with existing and new development partners. The Council also welcomed two new partners: the International Union for the Conservation of Nature (IUCN) and the Development Bank of Southern Africa (DBSA), bringing the number of implementing partners to 14. DBSA is also the first national project agency to be accredited to the GEF.
The GEF Council also appointed Dr. Juha Uitto from Finland as the new Director of the GEF's Independent Evaluation Office (IEO). Dr. Uitto previously served as Deputy Director of the Evaluation Office of the United Nations Development Program, and has more than two decades of experience in the fields of evaluation and environmental policy in a variety of capacities.