The Global Environment Facility (GEF) approved on Wednesday, June 3, 2020 the sum of $8.9 million in new grant funding from the Least Developed Countries Fund (LDCF) for a coastal resilience project that will benefit 80,000 people in Liberia and rehabilitate 20,000 hectares of degraded coastal habitats.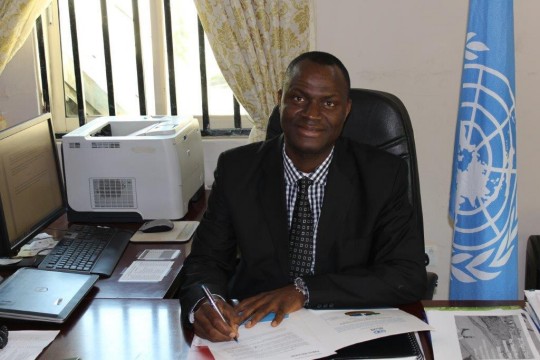 Similarly, GEF approved $4.5 million in new funding for a climate resilience project that will provide 90,000 Haitians with access to safe drinking water.
Implemented by Liberia's Environmental Protection Agency (EPA) and supported by the United Nations Development Programme (UNDP) the seven-year project will protect vulnerable coastal communities in Sinoe County from rising seas, degraded coastal habitats and other life-threatening climate change-related risks that threaten to undermine progress toward the Sustainable Development Goals (SDGs) and targets outlined in the Paris Agreement.
The project brings together co-financing and support from a number of sources. USAID will provide $28 million in co-finance, the World Bank will provide $15 million, and Conservation International will provide $500,000 of in-kind contributions through their on-going work in Liberia and West Africa. It also builds on earlier and ongoing projects funded by the GEF and the Green Climate Fund.
"Climate change is undermining our goals to build peace and prosperity for our people. Taken together with other actions, this innovative project protects vulnerable coastal residents from sea-level rise and supports our global vision to end hunger and poverty by 2030," said Randall Dobayou, Executive Director, Environmental Protection Agency.
An estimated 64 percent of Liberians live below the poverty line, with 1.3 million living in extreme poverty. Food insecurity affects four out of 10 people, and chronic malnutrition is high. The Ebola Virus and COVID-19 pandemic have put even more Liberians at risk.
The economy, though recovering, is still unable to generate sufficient employment, especially for young people. More than half of Liberia's 4 million people live within 40 miles of the coast, putting extensive pressure on coastal ecosystems for food, land, mineral extraction, and other resources. This has resulted in habitat loss and degradation.
"The project works toward transformational change by moving away from a 'business-as-usual' model to an integrated approach that combines nature-based interventions, hard infrastructure, gender-responsive approaches, capacity, policy, engagement with the financial services sector, knowledge and information and observational management systems," said UNDP Resident Representative, Pa Lamin Beyai.
In supporting climate resilient livelihoods, gender equality, decent work and economic growth, and responsible consumption and production as outlined in the SDGs, the project supports business development and training programmes for 70,000 beneficiaries, with targeted approaches for women and youth. It also targets 30,000 beneficiaries who will benefit from integrated farming systems, fisheries and compressed stabilised "earth blocks" and their value chains. 
The project enhances coastal resilience to storms, coastal erosion and flooding risks while supporting a range of ecosystem service benefits that improve livelihood security and overall climate resilience. These supports will benefit other coastal counties around the country in sea and river defence risk management as well as support for climate adaptation livelihood opportunities.
Implemented by Haiti's Ministry of Environment, the 60-month UNDP-supported project develops capacities, tools and infrastructure that will provide 86 communities with reliable access to drinking water throughout the year. The project benefits from an additional $30 million grant from the Interamerican Development Bank (IDB) and $1.1 million of in-kind contributions from the Government of Haiti.  

In protecting watersheds and the environment, the project promotes the adoption of improved water management and conversation practices across a 700-hectare area in the Southeast region of the small island developing state.

"Taken together with other initiatives, this project supports our vision to improve the living environment of poor people by increasing access to safe drinking water in a sustainable manner, improving health, well-being and livelihoods, protecting our environment and our citizens from the potentially deadly risks of climate change," said Astrel Joseph, Director General of Haiti's Ministry of Environment.

Haiti is part of the most beautiful island in the Caribbean but yet the most vulnerable to climate change combined with economic and social issues that includes problem of access to safe drinking water. The problem will only get more critical with higher temperatures, decreased precipitation, and a rise in extreme weather events.
The water issue affects the safety and health of Haitians and can be attributed in part to the Cholera outbreak that began in 2010 as well as reduced resilience to prevent the spread of other bacterial and viral diseases. Over 80 percent of Haitians have limited access to sanitation, while 18 percent have no access to sanitation services at all. Only 1 in 4 Haitians have access to basic water services, while 22 percent have no access at all.
"Safe and reliable water and sanitation services are essential in reducing the spread of diseases such as COVID-19 and cholera. By working in coordination with other national water and climate initiatives, this innovative project works to advance progress toward the Sustainable Development Goals and targets outlined in the Paris Agreement for low-carbon climate-resilient development," said UNDP Resident Representative Bruno Lemarquis
In Haiti, precipitation is expected to decrease by 5.9 to 20 percent by 2030. The people of Haiti are already feeling the impacts, with severe droughts in 2013 and 2016 putting millions of people at risk. Climate change-related wildfires, floods and landslides will also further impact water availability.

The "Strengthening the climatic resilience of the drinking water sector in the South of Haiti" project will focus on improving understanding of the underlying vulnerabilities of the water sector, strengthening regulations and policies, and identifying and promoting improved conservation and management practices.

Project outputs will include the protection and reforestation of water sources and aquifer recharge zones, and establishment and expansion of cisterns, small storage reservoirs, wells and other measures to promote healthier integrated water resources management. Water capture systems will be installed on rooftops to capture rainwater, and filters will be used to allow for the recycling of grey water.