Managing Director, Nigeria LNG Ltd. (NLNG), Dr Philip Mshelbila, says natural gas will play a significant role in Africa's energy mix to meet the demands arising from rapid population growth and economic expansion.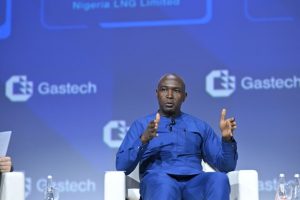 Mshelbila said it would also create the need for affordable access to clean energy and supply security for industrialisation.
A statement issued by Andy Odeh, General Manager, External Relations and Sustainable Development of NLNG, on Sunday, September 17, 2023, quoted Mshelbila to have said this during a strategic session at the just concluded 2023 Gastech Exhibition and Conference in Singapore.
The NLNG boss also discussed Africa's role in increasing supply resilience in the energy transition context.
Mshelbila stated that African gas could enhance global energy security by increasing production, ensuring a steady supply source despite rising domestic consumption growth of floating LNG, and facilitating the rapid delivery of gas products to the market.
He said it was necessary to adopt a multi-dimensional approach to the energy transition, considering Africa's specific context and evolving needs.
Mshelbila noted that the continent was already capitalising on opportunities in the energy transition, utilising gas as an evolutionary energy source that offers a cleaner alternative to traditional biomass and coal.
He highlighted that transitioning from polluting sources to Liquefied Petroleum Gas (LPG) and Compressed Natural Gas (CNG) could reduce emissions by up to 48 per cent.
He cited Nigeria as an example, where the government actively promotes CNG usage in the transportation sector to expand gas utilisation and drive progress across various industries.
Mshelbila also noted that Africa is maximising opportunities in the growing LNG market, increasing its production capacity to substantially contribute to global supply.
"Africa is emerging as a critical global gas supply source, with production expected to double, solidifying the continent's role in global energy security.
"The largest gas markets in Africa remain Algeria and Nigeria, which account for at least 55 per cent of the continent's gas reserves.
"However, exciting new gas markets are emerging across the continent, especially in LNG developments in Mozambique, Senegal, the Congo, and Tanzania," he said.
Mshelbila said that efforts were underway to develop inter-regional gas supply pipelines to facilitate the movement of gas resources from West Africa to North Africa and beyond, promoting intercontinental trade.
Regarding the energy transition, he highlighted Africa's progress in the field of hydrogen.
He said that when produced using Africa's abundant gas resources in conjunction with renewables, hydrogen could position the continent as a major hydrogen exporter in the near future.
Mshelbila emphasised that Africa was taking a proactive, region-specific approach that leverages its unique strengths and resources, offering promise for a sustainable energy future and a crucial role in the global energy transition.
The Gastech Exhibition and Conference is a platform for professionals in the natural gas, LNG, hydrogen, low-carbon solutions, and climate technologies industries to discuss the latest developments in the sector.
By Yusuf Yunus