Governor of the Upper River Region (URR) in the Gambia, Fatou Jammeh Touray, has reiterated that her office is committed to ensuring that the environment is clean and being protected from any form of emission particularly from substances produced from domestic and local industrial activities especially from cooling systems. She noted that the Government of the Gambia has environment on top of her development agenda and would endeavour to sustainably improve the environment for all.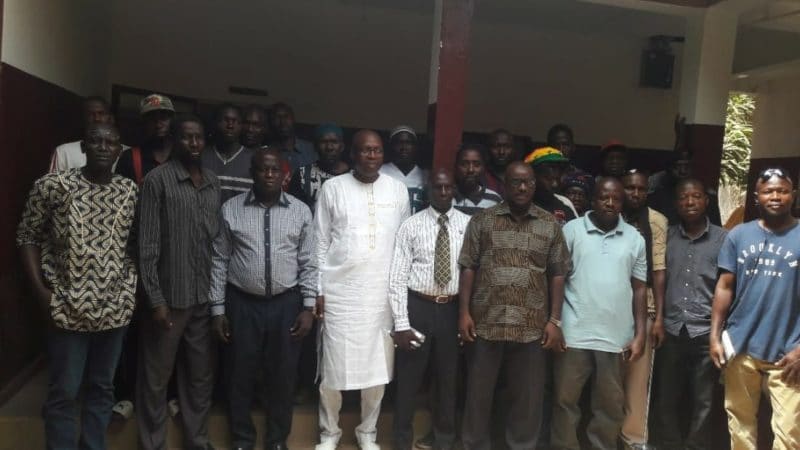 She made these remarks during the opening ceremony of a four-day training workshop organised by the National Environment Agency (NEA) for refrigeration and air conditioning technicians on the handling of refrigerants, flammability and safety, held at the Basse Area Council chambers, URR. She enjoined the participants to be professional with their job and be cautious in handling flammables refrigerants that are substitute to gaseous ozone depleting substance (ODS).
"It is therefore important for you to actively participate in this capacity building training where you will discover new skills and innovations which will serve you in your profession as technicians.  Try to share the new ideas you are going to discover with those that could not have the opportunity to attend," she pointed out.
Delivering the governor's speech on her behalf, Momodou Billo Jallow, the region's Population Officer, posited that technicians are very important players in the phasing out of ODS and refrigerants that contribute to the warming of the earth, so they must therefore collaborate to get rid of such substances that will not only destroy the environment but threaten man's very existence.
In his opening statement, the Director of Administration and Finance at the NEA, revealed that the training workshop came at a time when the refrigeration and air conditioning subsectors are experiencing a lot of transformation in terms of technology and the introduction of new refrigerants in a bid to replacing the ones that are ozone depleting, which are potent greenhouse gases that contribute to the warming of the earth.
Gases like Hydro-Chloro-Fluoro-Carbons (HCFC) and Hydro Fluoro-Carbons (HFC) like refrigerant 22 and HFCs used mainly in air conditioning systems and fish processing factories do not only deplete the Ozone layer but contribute to global warming consequences of which are currently being experienced in the form of heat waves, extreme cold seasons as in Europe and other parts of the world, sea level rise resulting to coastal erosion and inundation, to name but a few.
Muhammed Denton called for concerted effort in curbing negative practices in refrigeration management.
"All of us here present have a role to play in reducing the production and consumption of such refrigerants threatening our survival and our very existence on earth. As technicians and major stakeholders in the servicing sector, you should encourage end-users to convert to Ozone friendly refrigerants like R290 which is now available in our markets and can be used in our air conditioning systems. Importers also need to support us by importing such alternatives to gradually phase out the said refrigerants. This will ensure our compliance to the Montreal protocol obligations on substances that deplete the Ozone Layer," he said.
He posited, as Article Five parties, Gambia needed to adjust to the compliance requirements of the international agreements like the Vienna Convention and the Montreal protocol on substances that deplete the Ozone Layer, whilst being committed in ensuring that new technologies are adopted for a cleaner environment.
This, he said, is a challenge all Gambians have to face and, with the usual political support from the Government of the Gambia and donor partners like the United Nations Environment Programme (UNEP), United Nations Industrial Development Organization (UNIDO) and Global Environment Facility (GEF), there is assurance of compliance as article five countries.
He said that is why the training and the ones to come would concentrate more on safety and how to handle such refrigerants because one currently used in the market are flammables. He concluded by commending UNIDO for providing funds to conduct the training and many more to come.
According to the agency's ODS officer, Alhagie Sarr, the objectives of the training is to identify technology needs, country-specific barriers and requirements for the application of such technologies, formulation of a roadmap to promote green cooling and inter regional technology transfer. Adding on, he said it is also to promote natural refrigerants including carbon dioxide, ammonia and hydrocarbon technology and to share information on low global warming technologies.
By Sheikh Alkinky Sanyang