The National Environment Agency (NEA) is implementing the United Nations Development Programme (UNDP) and Global Environment Facility (GEF) Least Developed Countries Development Funds (LCDF) project titled "Enhancing Resilience of Vulnerable Coastal Areas and Communities to Climate Change in the Republic of The Gambia". The objective of the project is to reduce Gambia's vulnerability to sea-level rise and associated impacts of climate change by improving coastal defenses and enhancing adaptive capacities of coastal communities.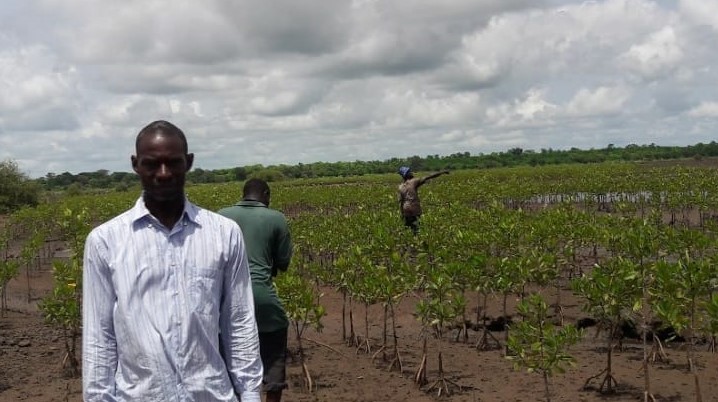 The effect and impact of salt intrusion as a result of climate change is serious and continue to affect livelihood support systems of shoreline communities, making them vulnerable to poverty, hunger and food insecurity. In some of these communities, mangroves and other forest species are dying at an alarming rate making access to fuel wood and aquatic species such as fishes and crabs become very difficult to get.
It is rooted in the belief that environmental problems can only be addressed adequately if local communities affected are involved in solving or minimising the trend, by undertaking activities which can make a difference in their livelihoods and the environment.
The alternative livelihood component of this project is striving to ease climate stress in affected local coastal communities whose farmlands and rice fields are affected by the phenomenon of climate change. It is from this back drop that the project embarked on a massive mangrove planting in West Coast, Lower River and North Bank regions in an effort to regenerate the lost coastline mangrove and vegetation cover within these localities.
Marking the annual planting exercise recently in the Kiang West District village of Kantong-Kunda, in Lower River Region, natives of the surrounding local communities from women to men, girls to boys and even the old joined the project and NEA staffers in what has been described by many as the successful massive tree regeneration ever staged this year.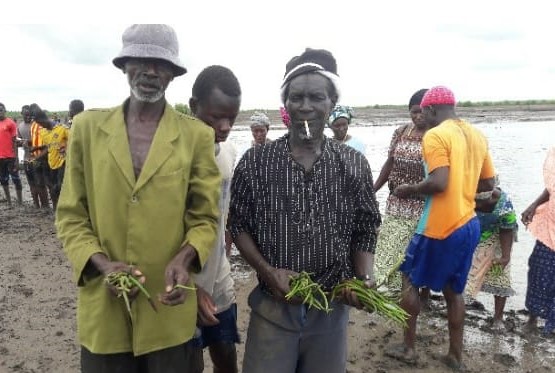 According to the project's mangrove restoration expert, Hatab Camara, mangroves are environmental indicators and serve as a carbon sink, and therefore play a pivotal role in harnessing and conserving aquatic life cycles and protecting the environment from depletion. This makes it more a reason why the project is projecting to plant over four million propagules this year throughout the mangrove regeneration project sites in the said three regions, he disclosed out.
He therefore called on the local communities to take ownership of the restoration programme and jealously protect and guard the new plants against intrusion from animal and man, particularly fishermen. Happily pointing at the already grown mangroves that were planted two and three years ago respectively, Camara reiterated the fact that "No Tree-No life" warning that the destiny of our tomorrow`s environment lies in our hands today.
After a thorough survey of all the affected areas within the project spheres in the three regions, Camara unveiled that an area of over 400 hectares has been identified for restoration and over four million propagules were collected for the 2017 planting season.
According to some of the villagers who spoke to this reporter including Bakebba Ceesay and Molifa Ceesay, the project through its mangrove restoration programme has come to give life to not only the populace of the local community, but has assured the environmental future of their generations not yet born. As a token of appreciation, the village elders thanked the UNDP, GEF NEA implemented four-year project for foresight in restoring their shoreline mangrove vegetation, and further described the project as a success story.
By Sheikh Alkinky Sanyang, Banjul