With just a few days to go before the G7 Summit in Germany, activists consider it deeply worrying that several G7 countries, including Germany – the G7 host itself, are going on a global shopping spree for fossil gas and reverting to powering up coal plants as gas supply from Russia dwindles.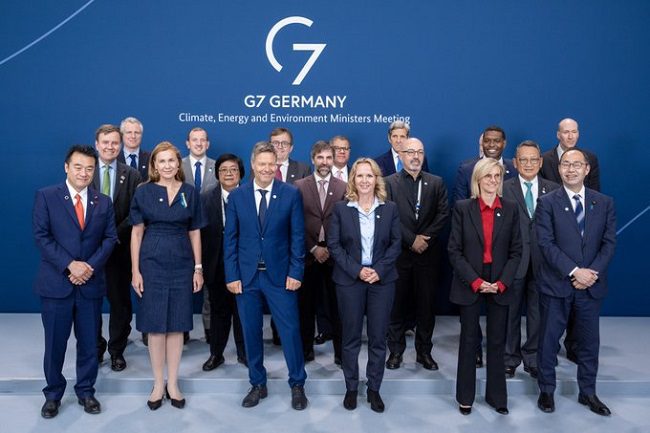 "The G7 must under no circumstances water down language from an earlier communique this year to end all international finance towards fossil fuels by the end of 2022, and potentially shift nearly $33 billion a year to clean energy sources.
"Any move by the G7 to revamp fossil fuel use domestically and regress on commitments to end fossil fuel finance internationally does the opposite of serving energy security needs. It would derail efforts to limit warming to 1.5°C and put millions of lives and livelihoods at risk from fossil-fuel-driven climate disasters."
They believe that the lack of leadership by rich nations was on full display in the recently held UN climate talks in Bonn where the European Union and the USA stymied progress on finance for loss and damage, leaving the talks in disarray and mistrust just four months ahead of COP27 in Egypt.
"As countries like Bangladesh experience unprecedented devastation from floods and vulnerable island countries see insidious sea level rise that is causing widespread loss and damage, it is hypocritical and morally bankrupt for rich countries to aggressively pursue fossil fuels that fuel war and conflict and undermine rather than enhance energy security, while blocking any finance for those suffering from unavoidable climate impacts.
"The G7 summit is a moment to show leadership on climate ambition. We call on the G7 to stand by its promise to end all international public finance to fossil fuels by the end of this year and commit to scaled up finance to help developing countries transition to clean energy and ensure finance for loss and damage is a priority this year."
The campaigners, operating under the aegis of the Climate Action Network (CAN), suggest that only effective response to Russia's war against Ukraine and rising energy prices is to use public finance strategically to accelerate real solutions like sustainable renewable energy and supporting infrastructure and energy efficiency, that can help reduce reliance on fossil fuels and build a more energy-secure and safe future for all.
Laurie van der Burg, Co-Lead Global Public Finance Campaign, Oil Change International, said: "If the G7 adds loopholes to allow public finance for gas this would denote an enormous waste of public money and a huge, missed opportunity to shift this money to real solutions.
"While it is critical that governments stop Russian fossil fuel imports, new gas investments are not needed to replace Russian supply and will not help achieve energy security. Renewable energy and efficiency solutions can be deployed faster, better serve development and energy access needs, and do not come with the stranded assets and financial stability risks of fossil gas.
"The G7 adding loopholes is a bad look for Germany and risks derailing parallel commitments to shift public money out of fossil fuels and into clean energy. We cannot afford any backsliding. To save lives, countries need countries to stand firm in their commitments and follow through with integrity."
Tasneem Essop, Executive Director, Climate Action Network: "The G7 countries, the richest economies in the world, have the moral and historical responsibility to do their fair share to fight the climate crisis. This is a crisis caused by their disproportionate reliance on fossil fuels.
"The upcoming G7 summit must produce clear evidence that rich countries are committed to phasing out fossil fuels and ending all finance for fossil fuel projects. They must channel all public money towards enabling developing countries to make a just transition and for finance for loss and damage. Anything short of this is a betrayal by the world's leading polluters towards the most vulnerable."
Laura Schäfer, Senior Advisor, Germanwatch: "The G7 countries, as the historic major contributors to the climate crisis and as leading industrialised countries, have a special responsibility to support developing countries in dealing with climate impacts. The urgent need to increase climate finance for adaptation and to address loss and damage has already been recognised by G7 ministers.
"At their summit, the G7 must now announce the provision of additional and needs-based finance for developing countries to address loss and damage. This would show that they are living up to their responsibility and not leaving developing countries alone to deal with the consequences of climate change. In addition to making the Global Climate Risk Shield operational together with the affected countries, the G7 should also support the establishment of a Loss and Damage Finance Facility at COP27."
Eddy Pérez, International Climate Diplomacy Manager, Climate Action Network Canada: "If there is one clear message that must come out of this G7 Summit, it is that we must stop waging war on nature, end the dangerous legacy of fossil fuels, and avert climate disaster. Any hints from these wealthy polluters that they intend to leave room for fossil fuel expansion will signal the failure of the G7's ability to tackle the crises humanity faces today."
Chiara Martinelli, Director, Climate Action Network Europe: "We urge the EU and all its G7 member states to massively ramp finance for renewable energies, energy savings and efficiency and cut fossil fuel subsidies, rather than displace oil and gas from Russia with those from developing countries. That is where synergies between climate action and energy security can be harnessed, instead of driving the world further into climate turmoil.
"To stand on the side of the climate vulnerable, G7 should furthermore agree to elaborate a loss and damage finance facility with new and additional funding. Only such a commitment will represent a step forward towards a successful COP27."
Dr. Rachel Cleetus, Policy Director and Lead Economist for the Climate and Energy Programme, Union of Concerned Scientists: "The G7 nations have a tremendous responsibility and opportunity to accelerate the global transition to clean energy and should not use the unjust war in Ukraine to double down on fossil fuels and put global climate goals at great risk.
"As the world reels from climate change-driven disasters, low-income nations are bearing the brunt of flooding, drought, heatwaves, food insecurity and other hardships. Richer nations most responsible for carbon emissions, including the United States and other G7 countries, must rapidly scale up funding for addressing the global dimensions of the climate crisis."
Catherine Abreu, Destination Zero: "We are paying attention, G7 Leaders. We see that Russia's war in Ukraine is only the latest excuse you are using to expand fossil fuel production while claiming to care about people who are losing their homes and their lives amidst climate chaos. We see you dragging your heels to make truly transformative investments in renewable energy and energy efficiency while you continue pouring money into oil and gas despite promising the world you would stop.
"We see you failing to deliver the money you've promised to help countries finance their development and expand their energy access without the use of fossil fuels even while you send money to those same countries to get them to build new gas infrastructure that risks being stranded. We see you and we will not stand for it. The peace project of our time is a just and equitable transition to renewable energy. You are being called upon to meet this moment in history with courage and conviction. Do not let us down."
Svitlana Romanko, Stand With Ukraine coordinator: "While we are trying to address the G7 leaders with an urge to immediately enforce an embargo on Russian gas and impose strict secondary sanctions, people continue dying in my country, half destroyed by the war. This is urgent and necessary to make sure that Russian gas and oil reserves become permanently unrecoverable, stranded and cannot fuel more wars. G7 leaders, we call on you to speed up the investments into renewable energy, stop funding fossil fuel expansion and finally put public money where it needs to be – in a peaceful, prosperous and clean energy future for all."
Johannes Schroeten, Policy Advisor-Sustainable Finance, E3G: "The G7 must lead the way toward a fair and resilient climate neutral world. Backtracking on existing commitments and international climate diplomacy achievements sends a terrible signal to the international community. As Europe faces the Russian aggression on Ukraine, substantially financed by fossil fuel revenues, the answer lies in renewable energies. Yet, while the climate emergency is manifesting in droughts, floods and heatwaves around the globe, the G7 are contemplating an outrageous expansion of investment in fossil fuels."
Mahir Ilgaz, Associate Director Global Policy and Campaigns at 350.org: "The dependency on fossil gas was a deliberate choice, built over time against countless pleas and warnings. The suffering of the Ukrainian people was the cost of this dependency, not to mention the climate damage wrought by Russian fossil fuels. Let this be the final warning. Ditch fossil fuels now or know that more suffering is in store, whether through petrostate dictators or climate impacts.
"G7 should stop trying to use other parts of the world as crutches to extend their fossil fuel addiction, and resolve to build a future based on justice, with energy systems that are accessible and fueled by renewable and sustainable sources that include everyone."
Landry Ninteretse, Africa Regional Director at 350.org: ​​"Germany pledged to end finance for fossil fuels by 2022. Now, while they host the meeting with the most powerful nations in the globe, instead of leading the way their government is backtracking and trying to water down their commitments, with Chancellor Scholz seeking to intensively pursue gas projects in Senegal. Gas is a dirty energy source and not a transition one like they want people to believe.
"Continued investments in fossil fuels not only undermine Africa's huge renewable energy potential estimated at 39% of the world's renewable energy potential but also perpetuates the extractivism and neo-colonial practices that have left millions of people in extreme poverty. We call on Germany and wealthy nations to stop delivering empty promises and instead provide climate finance and address loss and damage for the climate impacts our communities are already facing."
Kate Cahoon, Senior Germany Campaigner at 350.org: "Germany, as the host of G7, needs to acknowledge that the current energy crisis could have been avoided by shifting away from fossil fuels much sooner, instead of relying on autocratic regimes to provide coal, oil and gas. Instead of further entrenching Germany's dependence on fossil fuels, the only effective response to Russia's horrific war against Ukraine and rising energy prices is using public finance to accelerate the transition to renewable energy and take measures to improve energy efficiency, as well as providing finance to countries impacted by the climate crisis."
Susann Scherbarth, Head of Climate Justice, BUND/ Friends of the Earth Germany: "The G7 countries must live up to their historic responsibility and swiftly adapt their climate efforts to a 1.5-degree-pathway. Germany has the duty to lead the G7 summit to send out a very clear signal: We take our responsibility seriously and act in solidarity with those hit hardest by the climate crisis. This means: a clear no to fossil fuels – including gas, decarbonisation of our own power sector and a clear pledge of billions to finance the impacts of the crisis especially in the Global South. Now, not any moment later."