An early Saturday morning sea surge that swept through the Lagos coastline has killed four persons. Twelve others have been reported missing.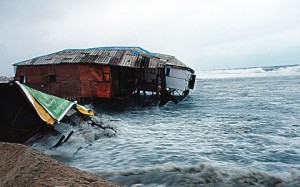 General Manager, Lagos Emergency Management Agency, Femi Oke-Osanyintolu, who confirmed the incident, said the corpses would be deposited at the Lagos State University Teaching Hospital, Ikeja.
The surge reportedly swooped on the inhabitants of the shanties in the early hours of the day when they were indoors. The Kuramo Beach area was severely affected.
A resident in one of the shanties who pleaded anonymity said that the surge swept through the area in the early hours of Saturday when residents were fast asleep.
"We are still looking for some people now as we speak. We just pray that they were no washed away by the surge," a resident who gave his name as Ibrahim said.
Oke-Osanyintolu, who stated that the surge occurred early Saturday morning while residents were asleep, said the affected victims were mostly residents living in illegal shanties, stating that, in order to avert further disaster; the state government had condoned the area.
Government has ordered the immediate evacuation of residents of the state's waterfront to forestall possible disaster from the seven days of high waves accompanied by a strong ocean surge which hit the country's coastline, with Lagos being among the worst affected.
Commissioner for Waterfront Infrastructure Development, Prince Segun Oniru, who disclosed this, said the process had started, with the immediate evacuation of the Kuramo Beach to make way for movement of sand into the area.
The commissioner explained that the action was taken immediately to avert the disaster of the Atlantic Ocean joining the Kuramo Waters and subsequently the Lagoon.
Oniru, who explained that the state is experiencing extreme weather conditions due to its location, noted that other coastal areas badly affected from which people would be expected to move include Badagry and Ojo areas, Bar Beach, Goshen Estate, as well as Maiyegun and Alpha Beaches.
He added that the state emergency services had been mobilised to continue to monitor the situation and respond accordingly.
He urged residents in the state to remain calm as government was doing everything possible to avoid more loss of lives and property to the surge.