Four candidates from Brazil, South Africa, United Kingdom and Belgium are jostling to replace Chairperson of the Intergovernmental Panel of Climate Change (IPCC), South Korean Hoesung Lee, who is stepping down after serving over seven years in office.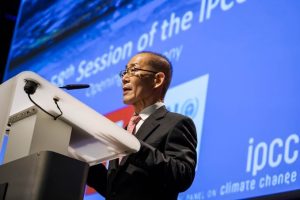 Lee, 77, a professor in economics of climate change, energy and sustainable development in the Graduate School of Energy, Environment, Policy & Technology at Korea University, succeeded former IPCC chair, Rajendra K. Pachauri, who resigned in February 2015.
Now, Belgian and former IPCC vice-chair, Jean-Pascal van Ypersele; Brazilian and erswhile IPCC vice-chair, Thelma Krug; South African and IPCC co-chair, Debra C. Roberts; and British IPCC co-chair, Jim Skea, are bidding to suceed Lee, who joined the IPCC in 1992 and formerly served as the panel's vice chair.
Additionally, eight candidates are contesting position of vice-chair, 15 for co-chair, 45 for workong group vice-chair, and 17 for task force bureau.
The IPCC will be electing its new Bureau and the Bureau of the Task Force on National Greenhouse Gas Inventories (TFI) during its 59th Session to be held in Nairobi, Kenya, from July 25 to 28, 2023, hosted by the UN Environment Programme (UNEP) and the Kenyan government.
The new IPCC Bureau, including the Chair of the IPCC, will serve for the duration of the next seventh assessment cycle, which starts after the election of the new Bureau.
The new IPCC Chair is scheduled to be elected during the week of July 25 to 28, 2023.
The 59th Plenary Session of the IPCC will begin on Tuesday, July 25, at the United Nations Gigiri complex in Nairobi.
During the opening ceremony, the delegates of 195 member governments will be addressed by the representative of the Kenyan government, the current IPCC Chair, Hoesung Lee; the Secretary General of the World Meteorological Organisation (WMO), Petteri Taalas; and the Executive Director of UNEP, Inger Andersen.
The IPCC is the UN body for assessing the science related to climate change. It was established by UNEP and WMO in 1988 to provide political leaders with periodic scientific assessments concerning climate change, its implications and risks, as well as to put forward adaptation and mitigation strategies.