At a press encounter after Global Crisis Response Group Roundtable and Leaders' Roundtable on Climate Change at the UN Headquarters in New York on Wednesday, September 21, 2022, UN Secretary-General, António Guterres, lamented the current climate situation, saying that the fossil fuel industry is killing humans, and leaders are out of step with their people, who are crying out for urgent climate action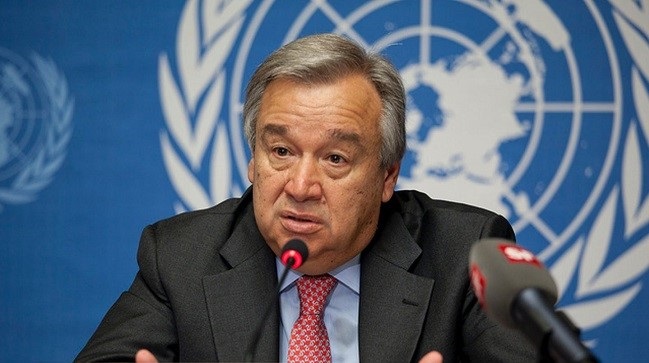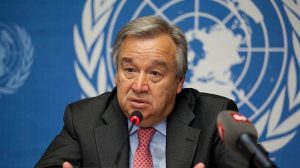 I have just concluded two meetings with a number of Heads of State and Government to talk about the climate emergency and the triple global crisis of food, energy, and finance.
My messages were stark. On the climate emergency: The 1.5-degrees limit is on life support – and it is fading fast.
You have all seen the appalling images from Pakistan. This is happening at just 1.2 degrees of global warming. And we are headed for over 3 degrees. That spells one thing.
I told the assembled leaders that we need their action, their leadership, now. I asked them to address four burning issues before COP27 in Egypt:
First, more ambition on mitigation to keep 1.5 alive. Emissions must decline by 45 per cent before 2030.
Current commitments will see them rise by 14 per cent. I particularly call on G20 leadership to end our fossil fuel addiction.
No new coal. Phasing out existing coal. Backing a renewables revolution.
The fossil fuel industry is killing us, and leaders are out of step with their people, who are crying out for urgent climate action.
Second, finance. Commitments to the developing world must be delivered in full. Immediately. And massively scaled up to meet rising needs. The world needs clarity on how developed countries will deliver the $100 billion dollars a year.
Third, adaptation and resilience. I emphasized the need to double adaptation support to $40 billion dollars a year by 2025. Climate destruction is happening now. People are suffering now.
Which brings me to my fourth point: loss and damage. It is high time for a serious discussion and meaningful action on this issue.
I hope COP27 in Egypt will take it up, as a matter of climate justice, international solidarity and building trust. Moving to the triple crisis of food, energy and finance.
The COVID-19 pandemic and the war in Ukraine have created a once-in-a-generation global cost-of-living crisis. In just three months this year, 70 million people were pushed into poverty. Food insecurity has almost tripled in three years.
Without enough fertilisers, next year's harvest may not be enough to feed the world. Many low- and middle-income countries face debt distress. Trade is being disrupted. Social unrest is rising. Peace and security became under threat.
We need international cooperation and solidarity to bring down prices, increase support to developing countries, including through social protection floors, and to prevent a larger crisis next year.
The Black Sea Grain Initiative and the agreement to facilitate unimpeded access to food and fertilizer from the Russian Federation are essential steps.
But they are not enough. International Financial Institutions must step up for developing countries. They need immediate debt relief. The Debt Service Suspension Initiative should be enhanced and expanded.
But we need new mechanisms to get resources to all countries that need them – including Middle Income Countries.
Unused Special Drawing Rights from developed countries should be rechanneled immediately to provide instant liquidity for developing countries that need it.
Many developing countries cannot print money without ruining their own currencies; and have no access to debt relief and sufficient concessional funding to provide them with fiscal space.
That access must be established. Governments with influence on the boards of the International Monetary Fund and the World Bank should get behind these ideas, now.
That means developed countries and in particular, G20 countries. We need them to take important decisions in Bali, because the world needs leadership. Now.
Mr. Secretary-General, you repeatedly had mentioned before that the climate change and the grim predictions are not predictions any more about the impact of climate change. And that is the case right now in Iraq, in the Kurdistan region and broader Middle East. There is an unprecedented number of sandstorms, drought, lack of water, that is impacting millions and already creating climate refugees in those areas.
What is the international community and the United Nations doing to help those who are already impacted by climate change?
First of all, independently of advocacy that we are making, we were very active in pushing for coalitions – developed countries, international financial institutions and private companies in technology – to support emerging economies to be able to accelerate their transition in order to be able to also cooperate in the reduction of emissions in the next decade. There are different levels of development and different levels of dependency on fossil fuels, and so we need the cooperation between the two, though the reason of the coalitions I mentioned, for developed countries to support emerging economies to be able to accelerate their own reduction of emissions.
On the other hand, we have been working hard to create the conditions for adaptation to be taken seriously by developed countries and we are discussing with Egypt on the absolute need to have loss and damage seriously in the COP 27.
You just said about mitigation of climate change, but now many countries are already facing droughts or heatwaves? I talked to the Pakistani Ambassador the other day – he is saying that Pakistan has already passed the threshold of 1.5 degrees Celsius of climate change; it is time to think more about adaptation rather than mitigation. So, do you think it is time that maybe we should invest more on adaptation rather than ask countries to mitigate with the climate change?
We need both. Before, there was only concern with mitigation. We have strongly advocated to have adaptation at the same level as mitigation, the same level of climate finance both for mitigation and adaptation. Without mitigation, disasters will be even bigger; and without adaptation, countries will not be able to cope with the impacts of the disasters and people will suffer even more.
You met with officials on Lebanon. Did they bring up to you the negotiations for the maritime border?
I have not yet met with the Lebanese delegation. After that, I will answer.