In a bid to promoting youth centre activities in raising awareness and mobilising public support for food security and livelihood protection, some 30 youths residing in the six states were recently selected to participate in an agriculture-based programme.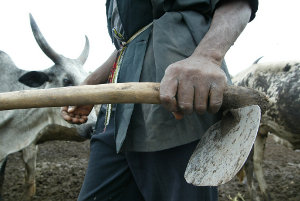 The youths from various backgrounds were camped in Osogbo, the Osun State capital, under a programme tagged: "Young voices for small scale farmers." Participants visited the International Institute for Tropical Agriculture (IITA), Ibadan in Oyo State; Osun Farm Settlement; Epe Fishing Community, Afuye-Epe; Nigeria Institute of Marine and Oceanography Research (NIMOR), Lagos; and Osun State House of Assembly.
During a lecture on the power of the internet, a youth activist and environmentalist, Zaid Shopeju, encouraged the youths to create a buzz on the internet about the programme by using different social media platforms to share happenings with their friends and the world.
Shopeju explained that the power of the internet can cause change when applied for the right cause. In a practical session, some of the youths were introduced and made to open accounts with Facebook, Twitter, YouTube and also start their blogs. A Twitter hash tag, #YV4SSF, was created and the youths tweeted daily happenings to the world about the programme.
Deputy Director, Partnership and Capacity Building at IITA, Dr. Kenton Dashiell, while receiving the youths, expressed optimism that the next level of change and development that would emerge from the agricultural sector would be based on youth-led initiatives. Dashiell pointed out that young, educated and smart people were needed to engage in agriculture as it (agriculture) is not a profession that should be downgraded. He urged the youths to join the large number of small scale farmers who are the major producers of food consumed in Nigeria.
Dashiell maintained that hunger and poverty can be totally eradicated in the country, if more young people with skills and initiative engage in agriculture, even as he expressed the IITA's support to partner with the youths for future development.
On tour the cassava processing unit in IITA, the site supervisor, Mr Smith Ikpan, spoke extensively on different researches, strategies being formulated to better develop improved varieties of cassava.
He said: "It is a known practice in Nigeria that to produce yellow-coloured garri that palm oil is required to be added to it, but an improved cassava variety has been produced by the Institute. The Beta-Carotene fortified cassava when processed into garri is normally yellow with no need for palm oil addition. This saves money, adds value and is nutrient fortified."
Ikpan inquired from his audience if they had ever seen or known that cassava had seeds? The youths were surprised to see the seeds of cassava as they collected some to show their family and friends.
The youths were also taken to the Osun Farm Settlement in Osogbo to interact with the farmers. One of the farmers, Pa. Isaiah Oladejo a 70-year-old mechanised farmer, said they first came to the settlement in 1963. Oladejo added that since then farming has become a way of life for him and he now manages 50 acres of farmland, where he cultivates different food crops. The farmer of over 50 years experience identified access to fertilizer and tractors as a major challenge facing the farmers in increasing their yield.
Pa Oladejo explained that farming requires passion and good sense of planning as a profession and encouraged the youths to come into it as most of the present farmers are growing old and becoming weak to actively continue. According to him, the notion that agriculture does not sustain your livelihood is untrue.
"I have seven children who are all graduates and I catered for them through farming. One of my sons has joined me in farming and we make an average of N2 million annually from maize farming alone," he disclosed, appealing to the youths to stop considering themselves as unemployed and waiting endlessly for white collar jobs. Through farming, you will feed yourself, family and Nigeria."
He praised the late Chief Obafemi Awolowo whose leadership as the Governor of the Old Western Region led to the creation of Farm Settlements across the region. Pa. Oladejo urged those in leadership position to initiate projects that would impact on the lives of their electorates. He called for issue-based and people-focused leadership which he said would position the country on the right direction.
Osun State Commissioner for the Environment, Professor Bukola Oyawoye, while addressing the youths  before they departed Osogbo to Lagos for the continuation of the tour, advised them to see agriculture as a solution to hunger, poverty and, unemployment. Professor Oyawoye said when young people engage in agriculture, Nigeria's economy would grow and be among the top 10 global powers.
Co-ordinator of the programme and Project Executive, Human and Environmental Development Agency (HEDA), Mr. Sulaiman Arigbabu, said it was time for young people to engage actively in programmes and policies in the agricultural sector. Arigbabu pointed out that Nigeria can regain its past glory through agriculture, as typified in the days of the groundnut pyramid, cocoa and palm oil, which enabled a boom in the economy.
He demanded: "Do you know the impact on food production if 10,000 Nigerian graduates engage in agriculture?"
Experts in the agricultural sector posited that the nation's economy can be diversified if more support is given to young people to encourage their engagement in agriculture.
By Tina Armstrong-Ogbonna